Welcome to Year 6 of High School Confidential, an award-winning project made possible by aspiring student journalists from every corner of our circulation area. Each Friday through May, they'll tell us what's happening in their hallways at news-gazette.com.
Once a week, we'll also hand over our Snapchat account (News-Gazette) to our correspondents for behind-the-scenes tours.
Feedback? Email NG/VP Jim Rossow at jrossow@news-gazette.com.
This year's panel:
Academy High: William thing
ALAH: Sarah Rafferty
Arcola: Ariana Carmona
Armstrong: Mattie Kennel
comment: Addie Fritz
BHRA: Pail Davis
Blue Ridge: Sarah Whitehouse
Centennial: Blake Burr, Montez Dubose
Champaign Central: Lucy Moss
Chrisman: Reese Anderson
Cissna Park: Emma Morrical
Danville: Kedzie Griffin
DeLand-Weldon: Kaitlyn Sayers
Fisher: Krista Martin
Georgetown Ridge Farm: Chloe Brock
Gibson City Melvin Sibley: Emily Hood
Heritage: Torie Rothermel
Hoopeston Area: Emily Ray
Judah Christian: Lydia Lowry, Abi Tapuaiga
Leroy: Kelsey Graves
Mahomet Seymour: Tinley Peters
Milford: Alivia makeup
Monticello: Clara Rudolph
Oakwood: Madison Doan
Paxton Buckley Loda: Sydney Murphy
Rantoul: Mary Cuppernell
St. Joseph-Ogden: Regan Uden
St Thomas More: Bailey McMahon
Salt Fork: Olivia Birge
Sharman: Evan Sherer
Shiloh: Josephine Carroll
Tuscola: Amelia Bosch
Uni High: Aakash Vasireddy
Unity: Maddie Reed
Urbana: Park Mitchell
Villa Grove: Molly Little
Westville: Bryce Burnett
On this week's Spring Break report:
ALAH
Ashley Seegmiller and Logan Beckmier competed in the District 4 Proficiency Award Night. Beckmier won sheep production to advance to State Awards Day on March 26. Seegmiller competed in beef production and entrepreneurship.
— Sarah Rafferty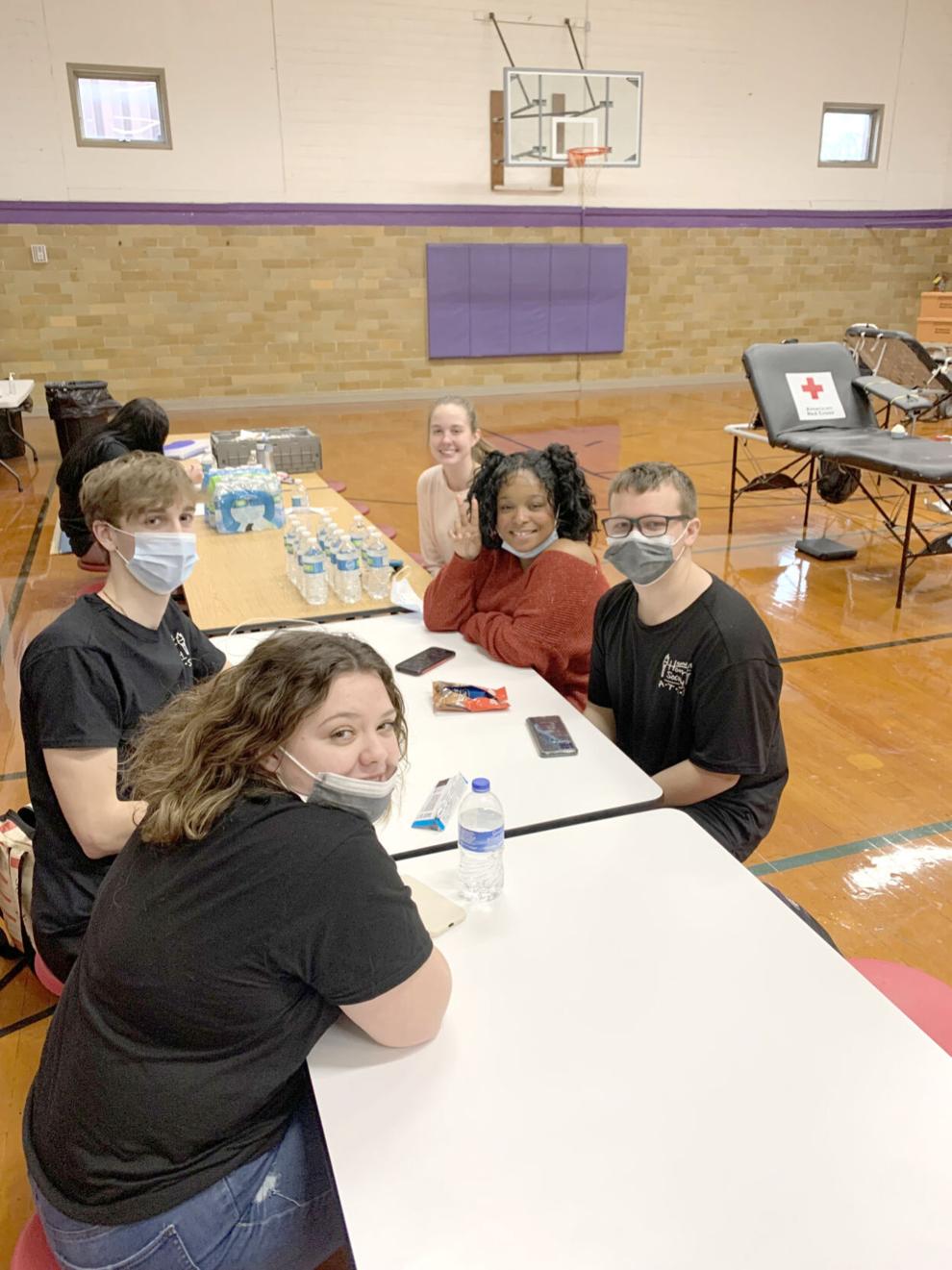 Armstrong
National Honor Society helped with a blood drive at the school last Wednesday, checking in donors and passing out snacks and water. Pictured, left to right: Luke Gordon, Casey Grant, Madelyn Hudson, Dasha Turner and Seth Pollitt.
— Mattie Kennel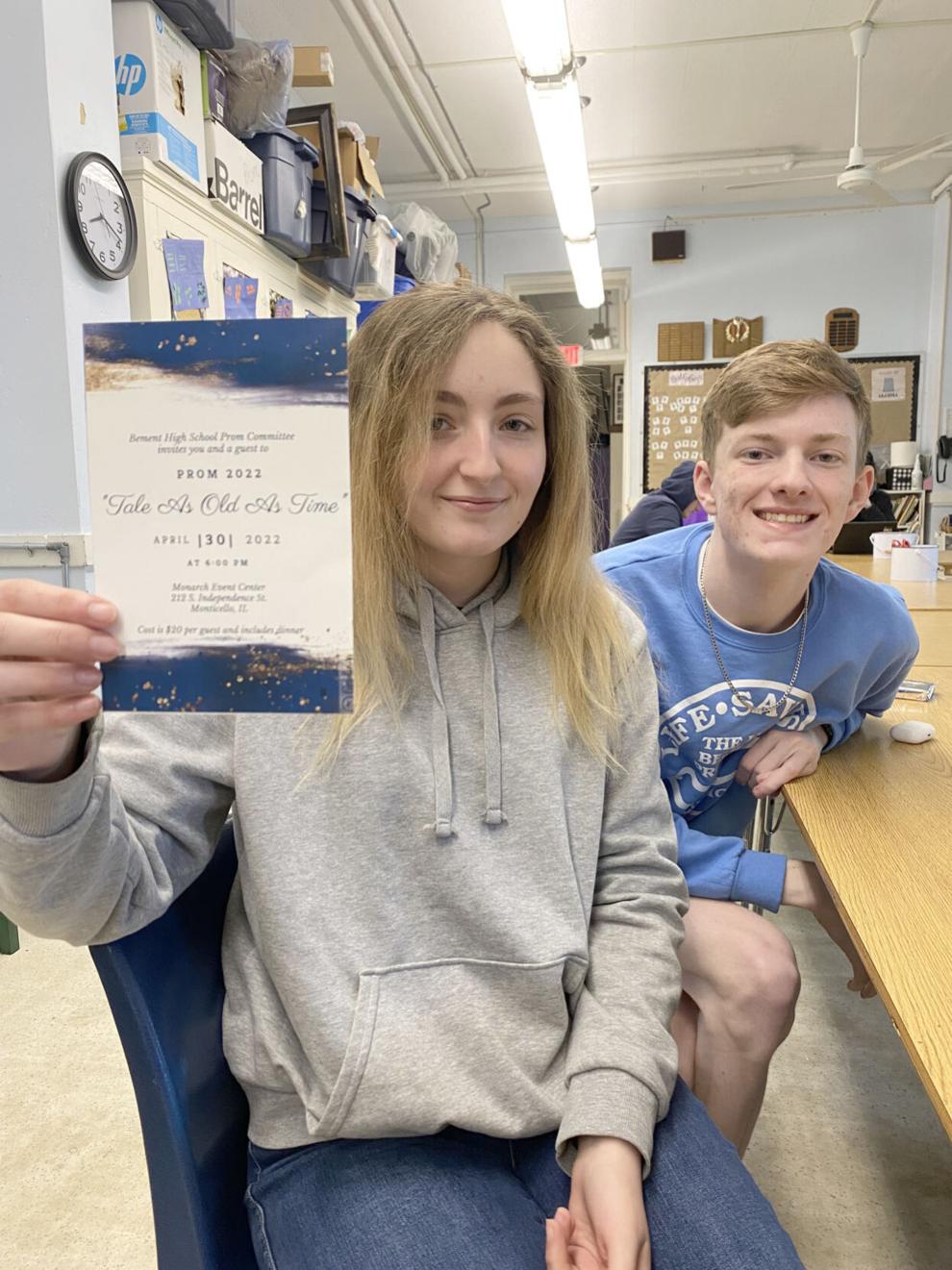 cement
Invitations for prom were handed out to the juniors and seniors last Tuesday. The theme: "Tale as old as time." Students are excited as there was no prom last year due to the pandemic.
— Addie Fritz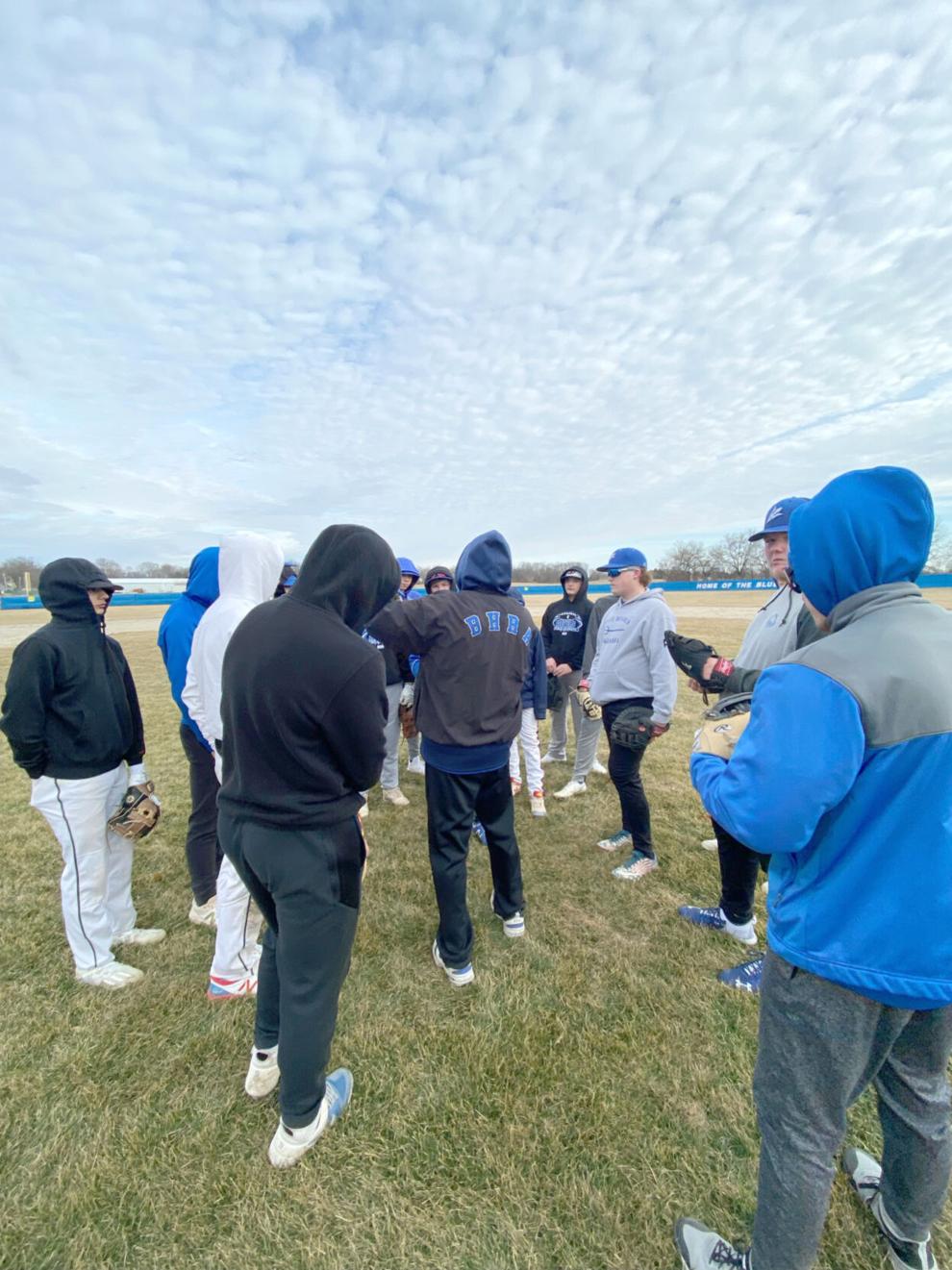 BHRA
Baseball season kicked off this week with games against Paxton-Buckley-Loda, St Thomas More and Iroquois West ahead of the home opener Friday against Danville. Pictured: Coach Mark Dodd with the Blue Devils.
— Paili Davis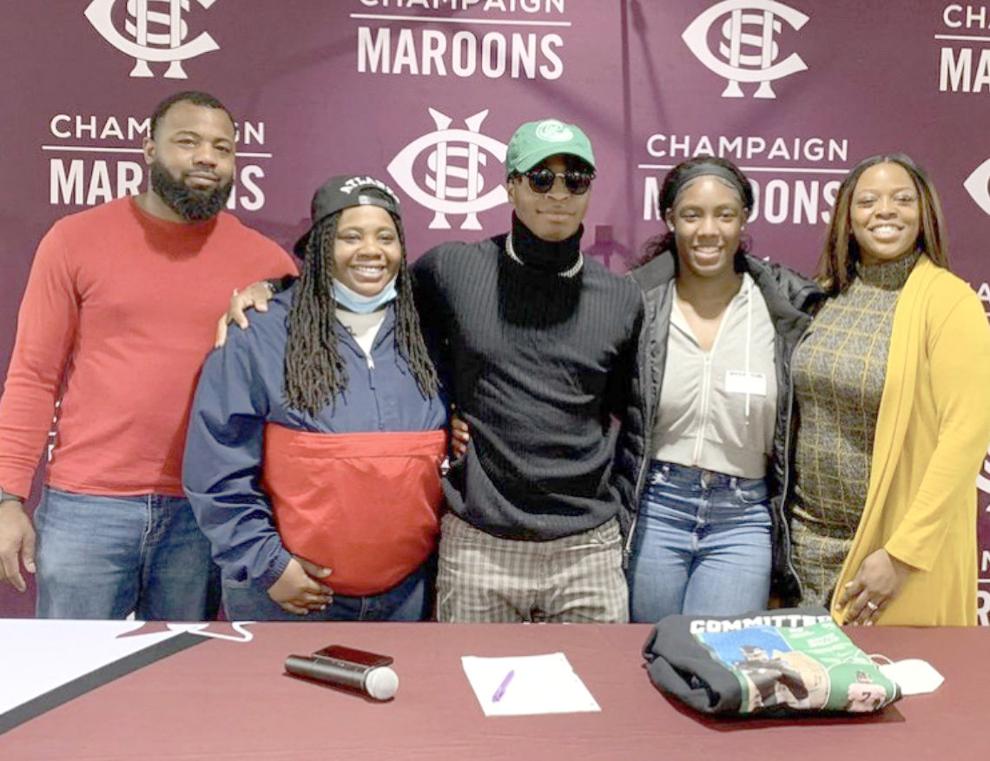 Champaign Central
On March 7, senior David Willis took part in a signing ceremony in the library as students looked on. He will continue his football career at Roosevelt University in Chicago.
— Lucy Moss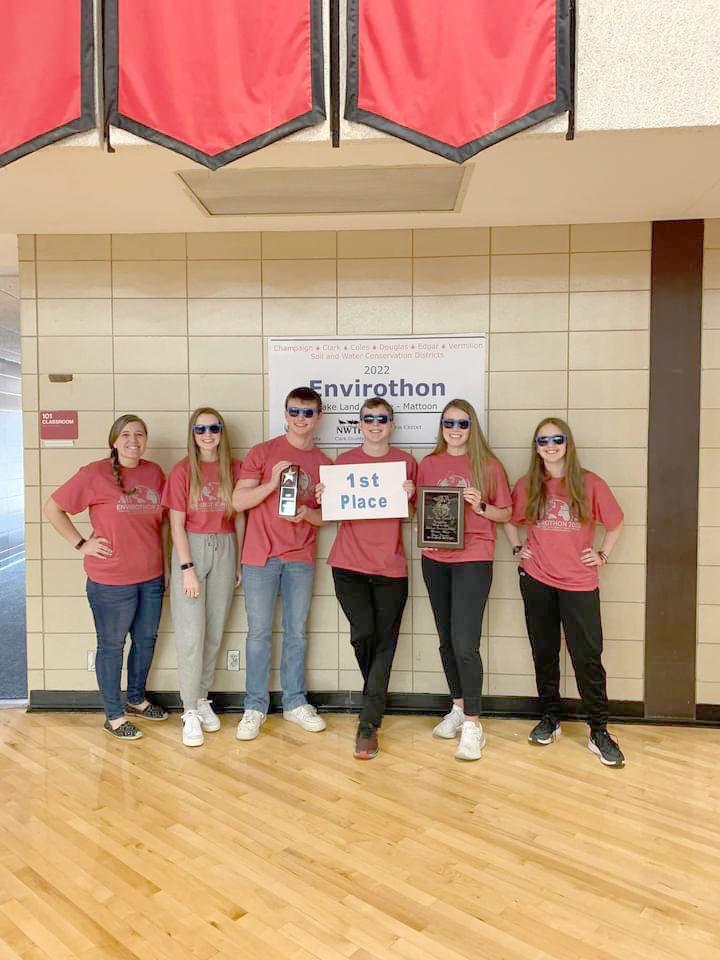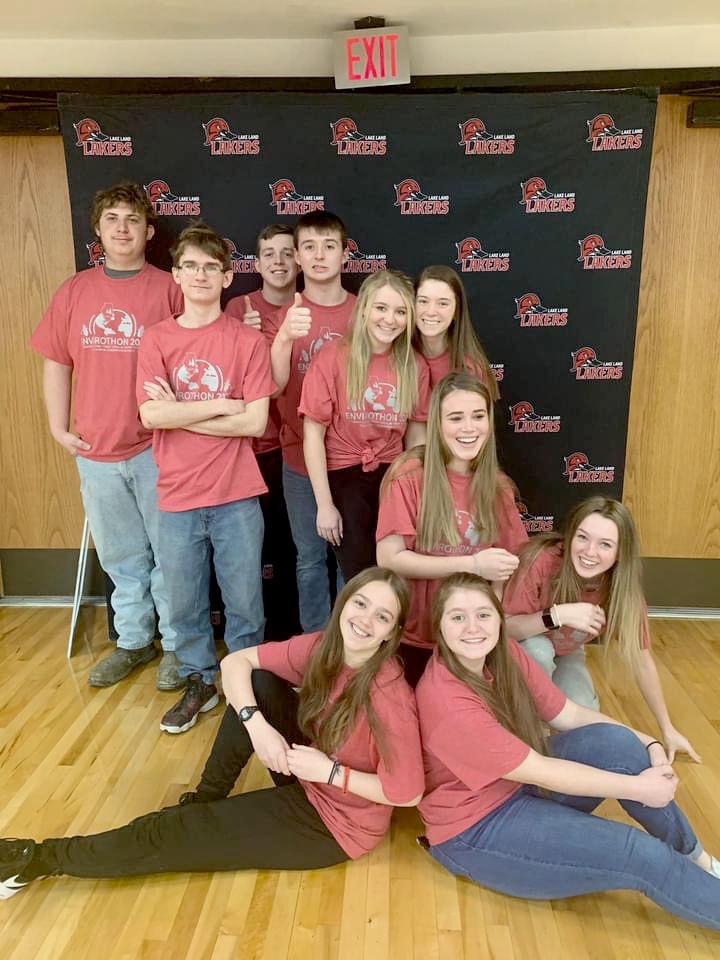 Chrisman
The school's Envirothon team took home first place last week and will be competing at the state championship in May. 1 was first in waste management and overall. Team No. 2 was first in aquatics.
— Reese Anderson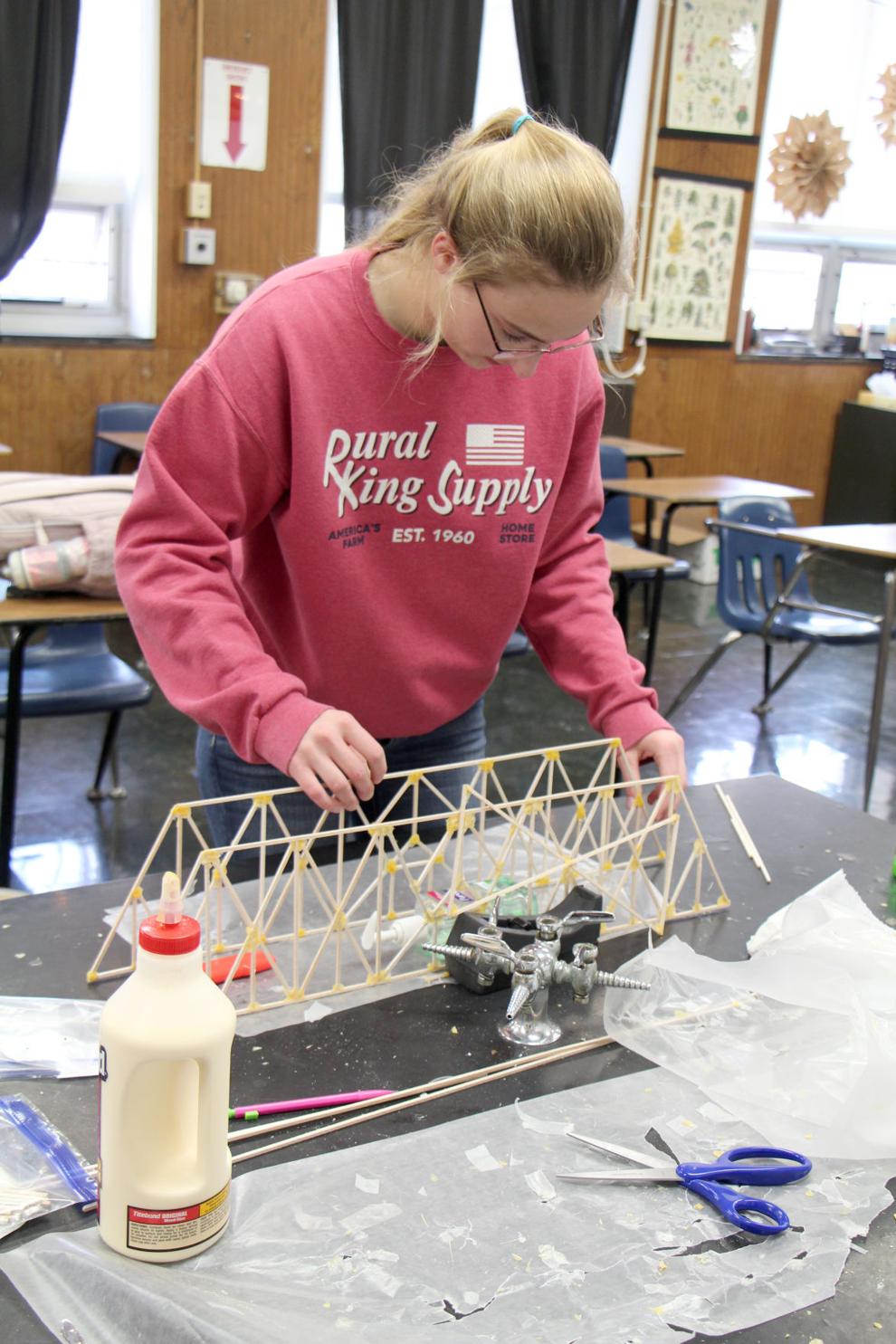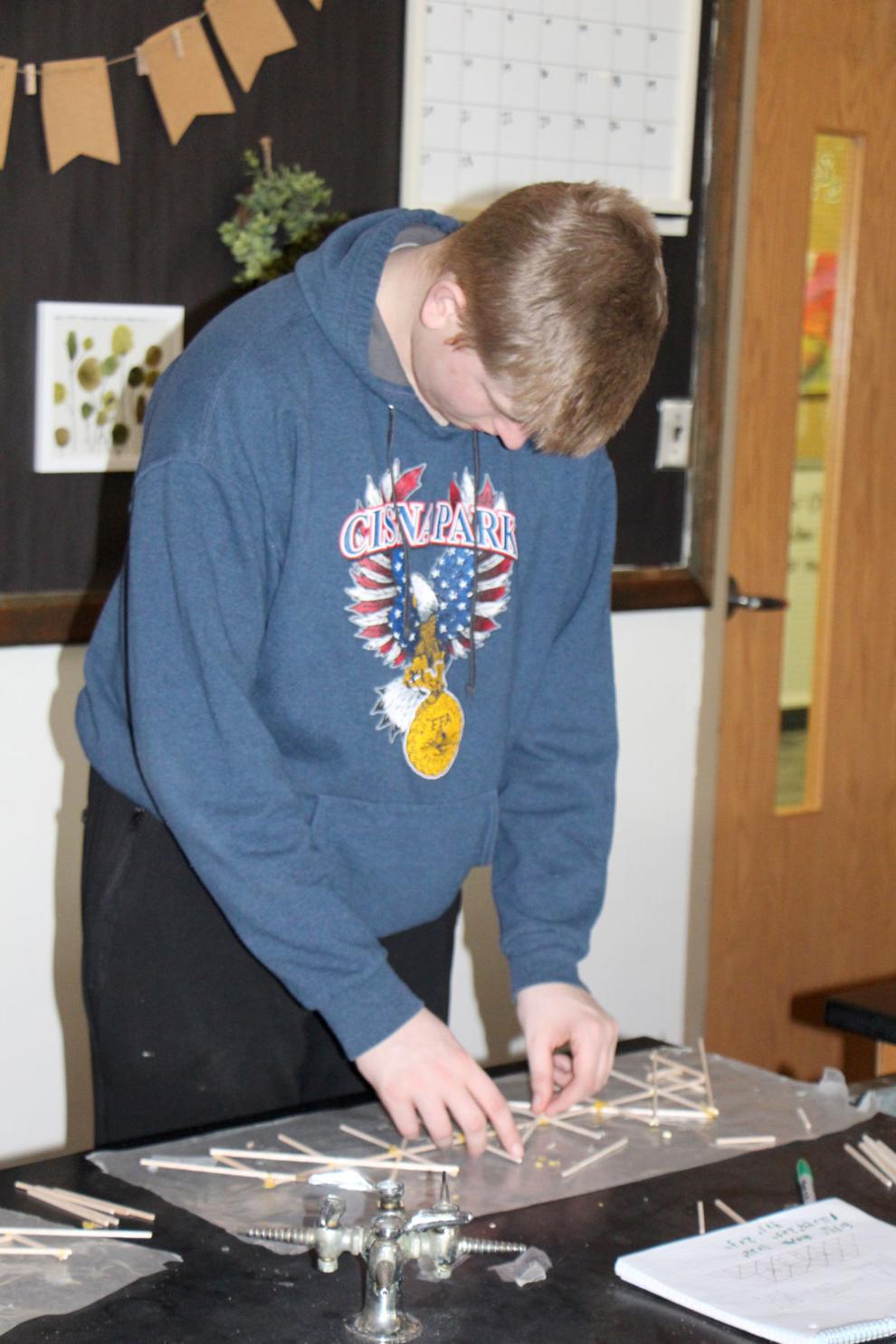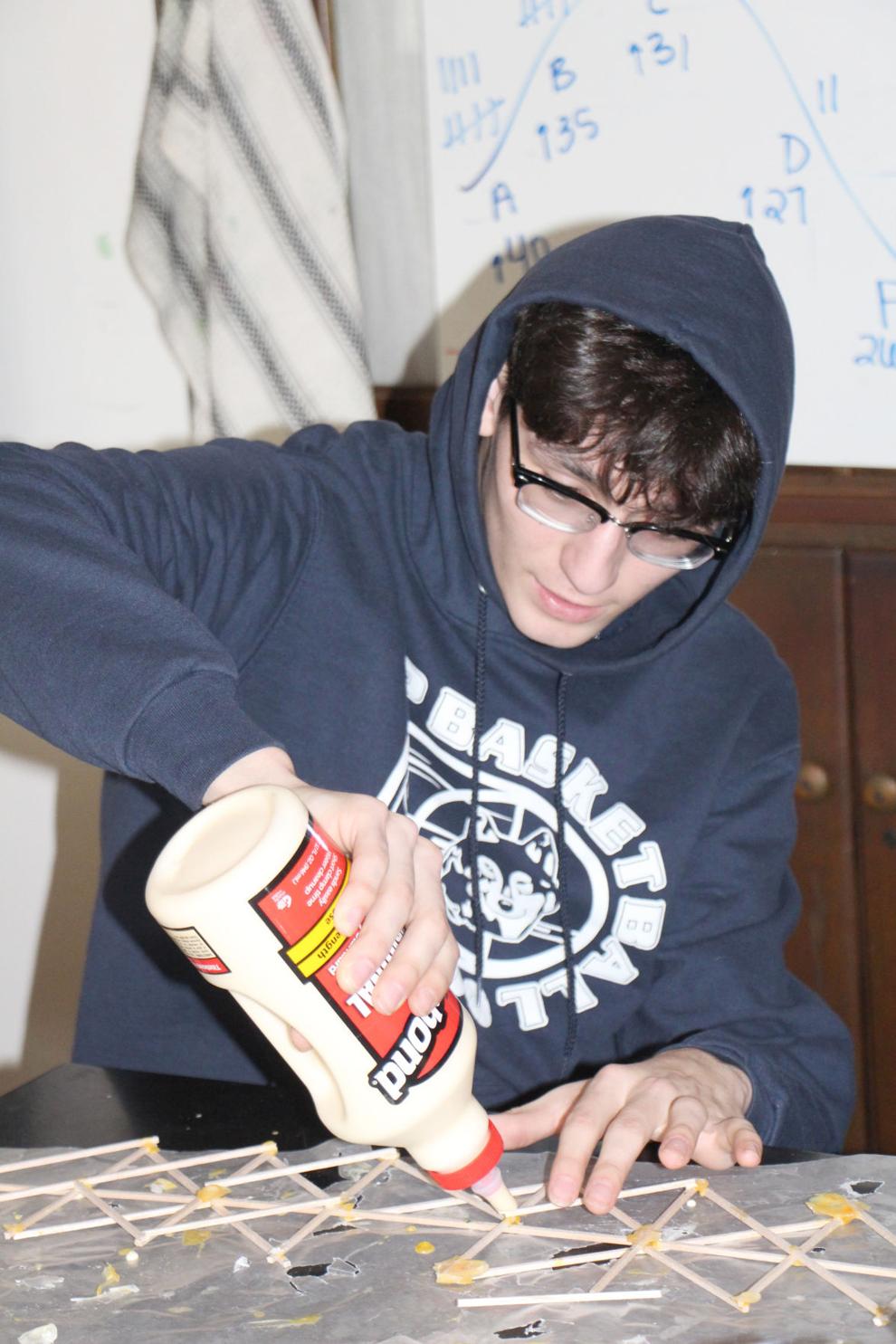 Cisna Park
Students in physics class built bridges from balsa wood. As part of a force unit, they tested the strength of the bridges by seeing how many pennies each could hold. Pictured, left to right: Lyssa Kaeb, Trae Cobb and Malaki Verkler.
— Emma Morrical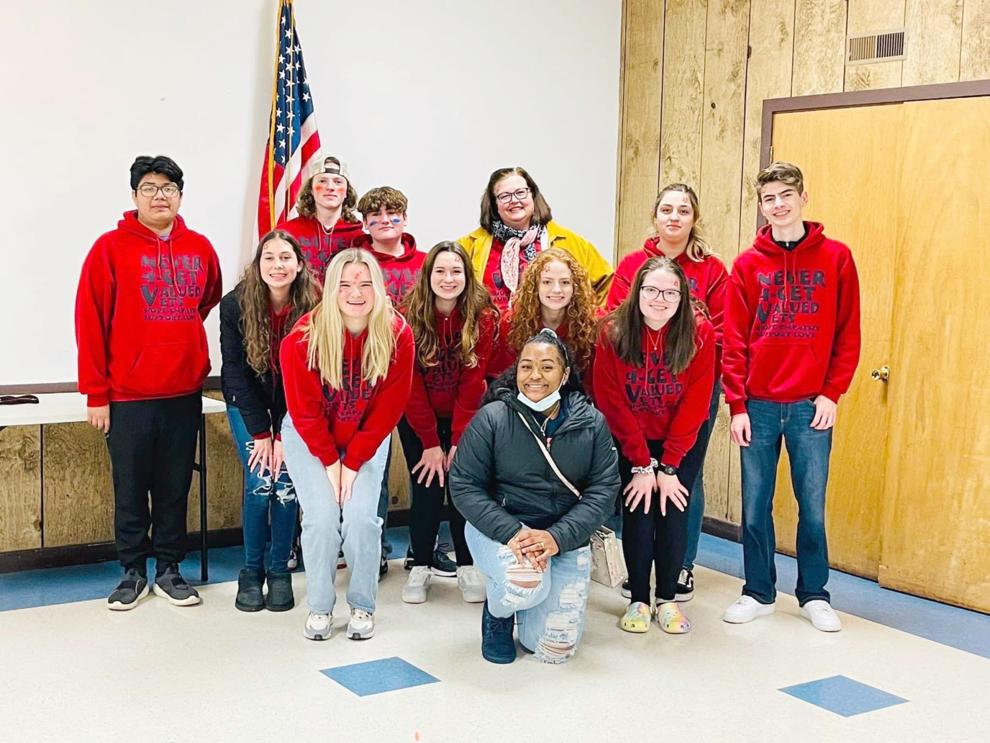 Danville
The school's Future Problem Solvers held their first Glo Bingo on March 4. A great turnout helped the group raise $4,500 toward its Value Vets project. The team also won a statewide FPS competition. Pictured: Mauro Bautista, Sarah Kagels, Cameron Feuerborn, Ethan Fox, Lori Woods, Ariana Appelman Contreras, Isaiah Easton, Kedzie Griffin, Cici Brown, Katie Kittell, Rebecca Feuerborn and Anyia Chavira.
— Kedzie Griffin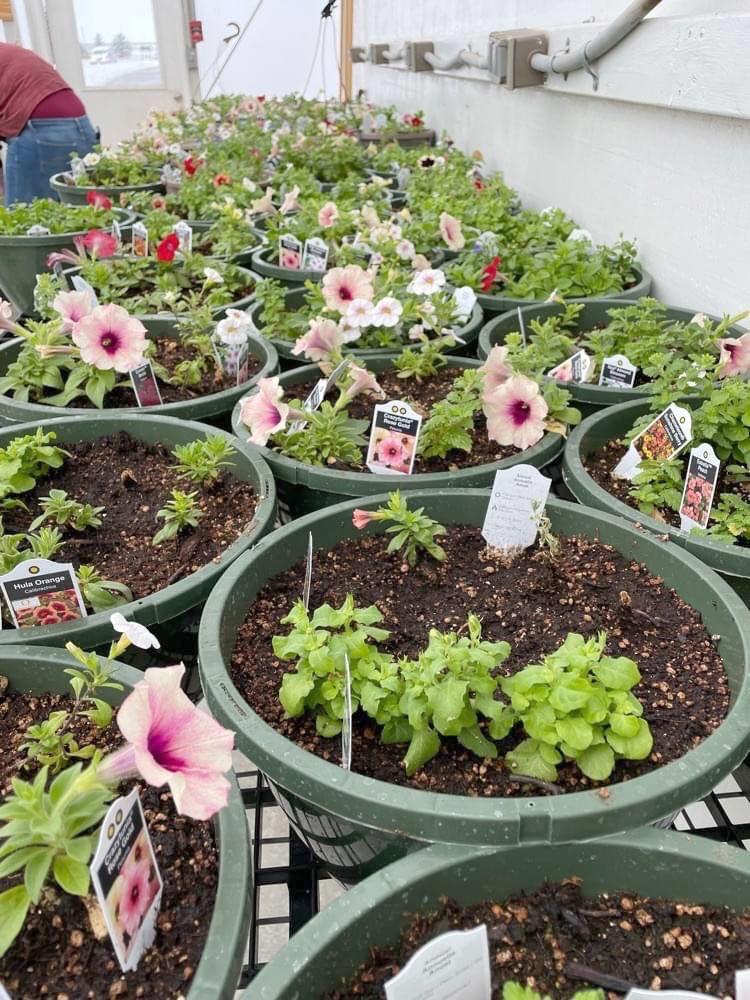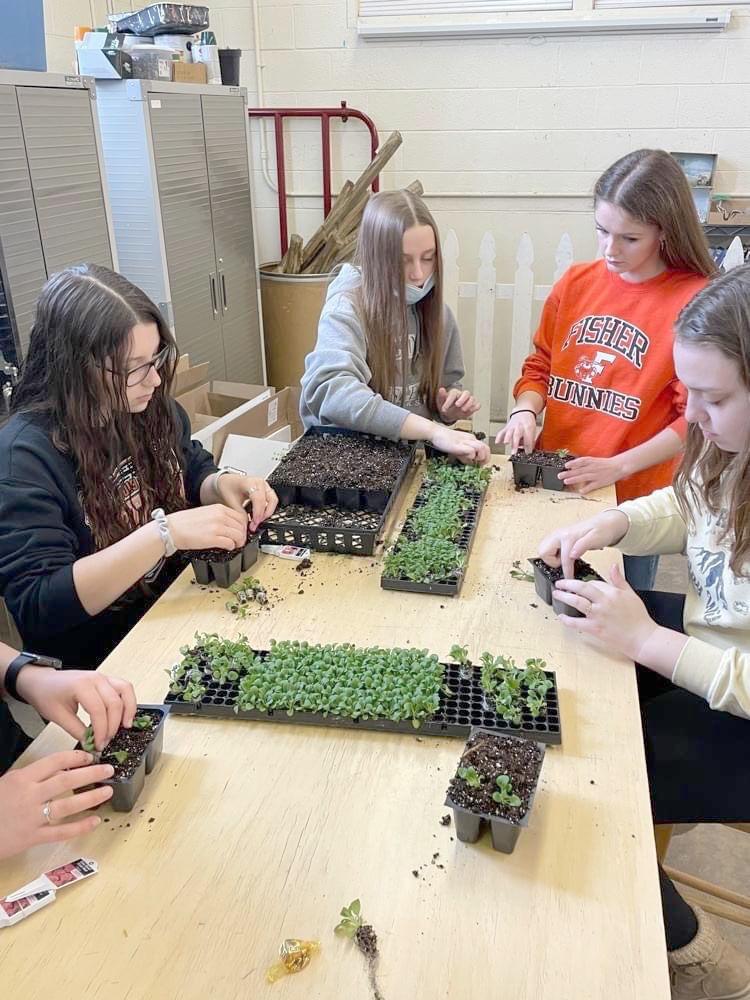 Fisher
Students in horticulture class prepared for the plant sale starting Mother's Day weekend. They will continue to watch and take care of the transferred plants until they are ready to sell.
— Krista Martin
Georgetown Ridge Farm
The Buffaloes competed at the Environment at Lake Land College. Pictured: (top row) Sydney Spesard, Coleton Cobble, Bailee Whittaker and Rylan Mosier; (bottom row) Bryleigh Collom, Leyla Shelton, Anthony Dodson, Gentry Howard, Haley Carlton, Claire Renaker and Trinity Collins.
— Chloe Brock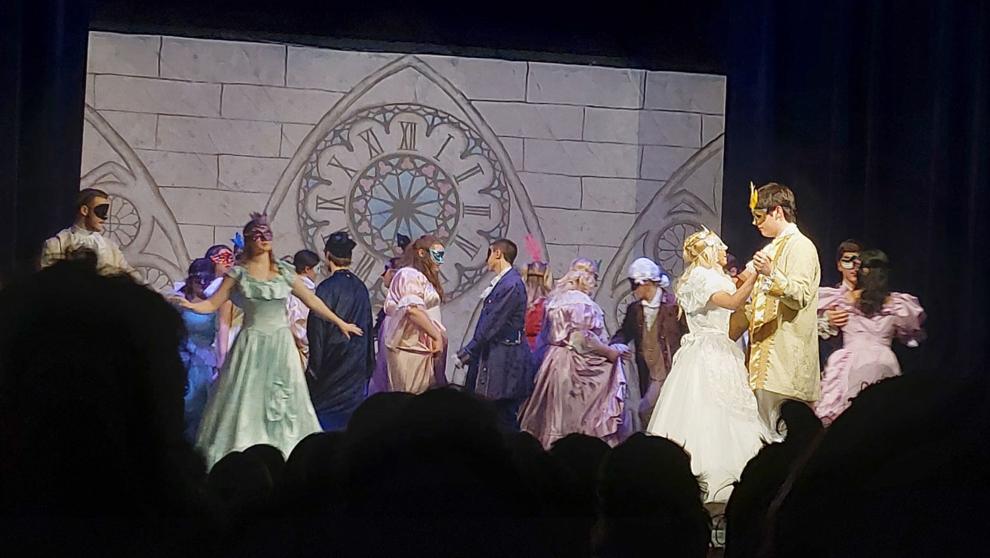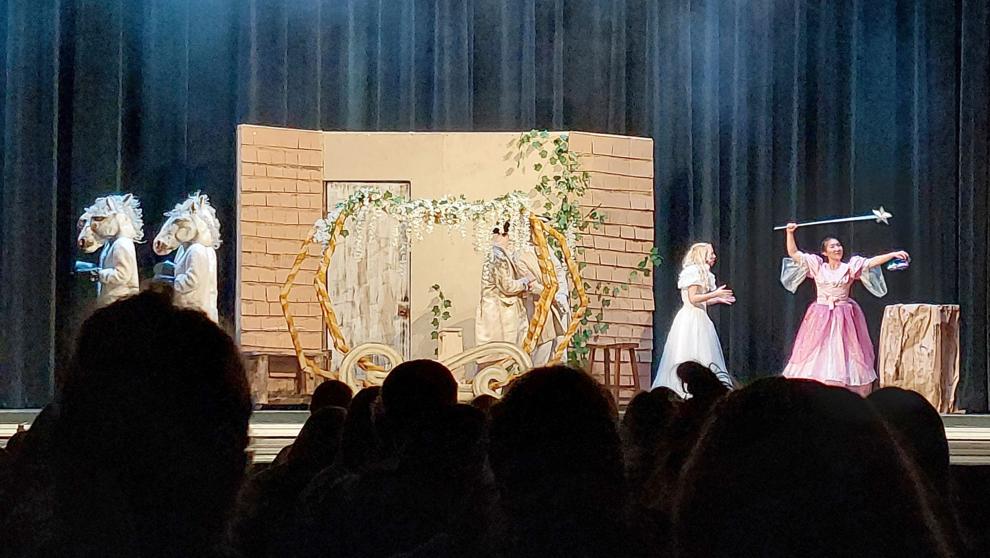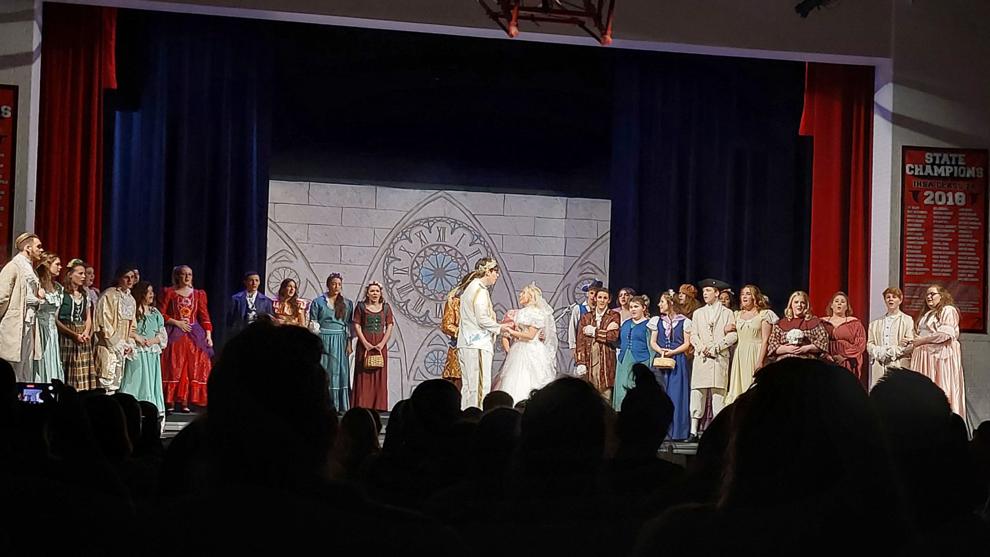 Gibson City-Melvin-Sibley
This year's musical was Rodgers and Hammerstein's "Cinderella" with Karah Jones as Cinderella, CC Francis as the prince, Katie Steidenger as the Fairy Godmother, Rylie Cline as the stepmother, Melanie Zook and Kyah Lee as the stepsisters, and Connor Main as Sebastian. It was directed by Amanda Broaddus.
— Emily Hood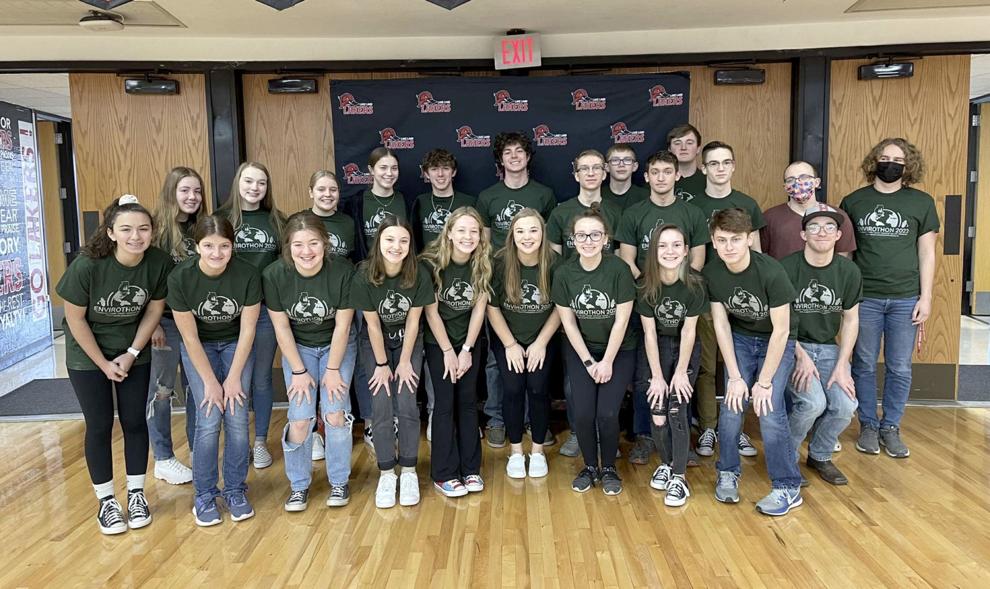 heritage
Science club and FFA members competed at Envirothon. Pictured, left to right: (back row) Lilli Montgomery, Riley Miller, Gracie Tate, Bri Struck, Konner Pearman, Andrew Williams, Aidan Ashbrook, Brennan Struck, Zach Ruwe, Kolton Junglas, Sam Gilbert, Cole White and Owen Ashbrook; (front row) Mary Roland, Gwen Happ, Izzy Reed, Olivia Wallace, Loran Tate, Paige George, Maddy Mahaffey, Katelyn Bensyl, Brodie Meneely and Derik Brown.
— Torie Rothermel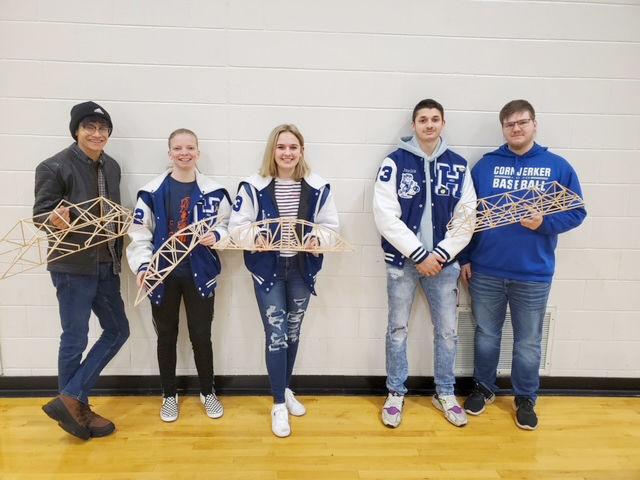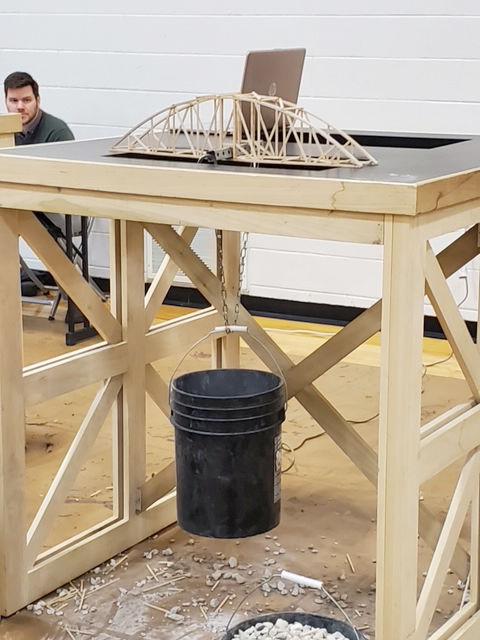 Hoopeston Area
A group of students attended the Purdue bridge bust contest. They spent months researching and preparing their designs, trial bridges, presentations and final bridges. Pictured, left to right: JJ Mendez, Allie Pickett, Meghan Simpson, Gabe Joneikis and Laiton Staley.
— Emily Ray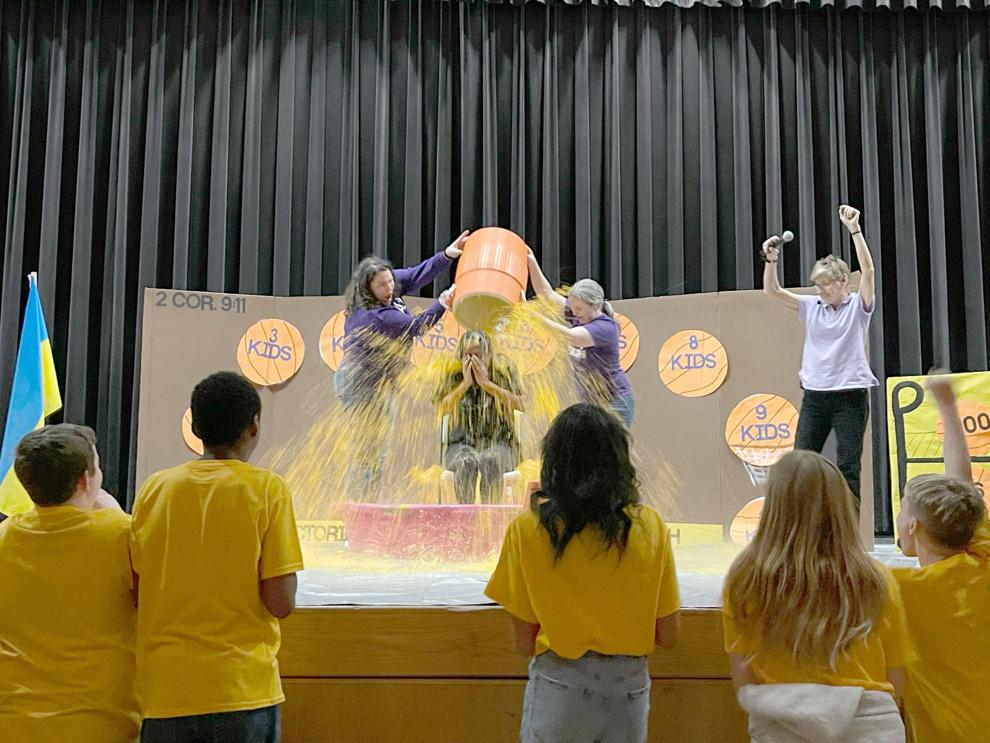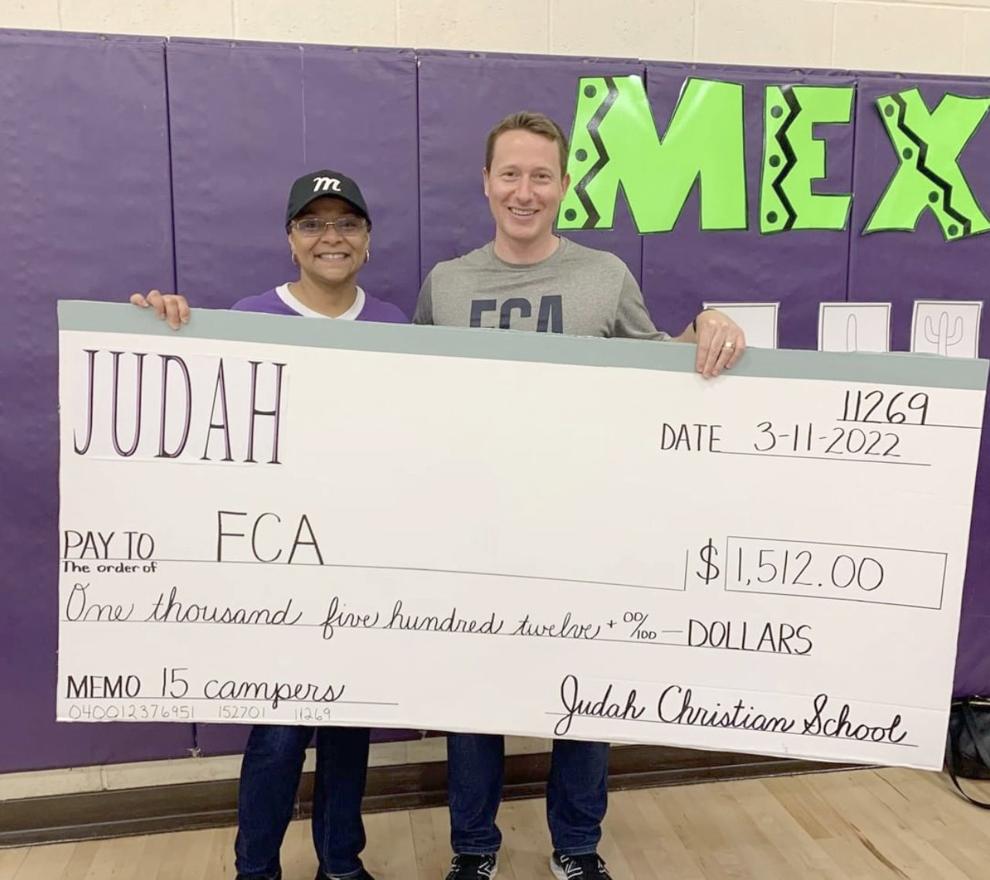 Judah Christian
Elementary students ended their missions week last Friday with a celebratory fair. As a reward for raising more than $1,500 for Fellowship of Christian Athletes (FCA), elementary Principal Tamara Liano had Gatorade dumped on her during Friday's festivities. During the week, students learned about different countries in their respective grades.
— Lydia Lowry and Abi Tapuaiga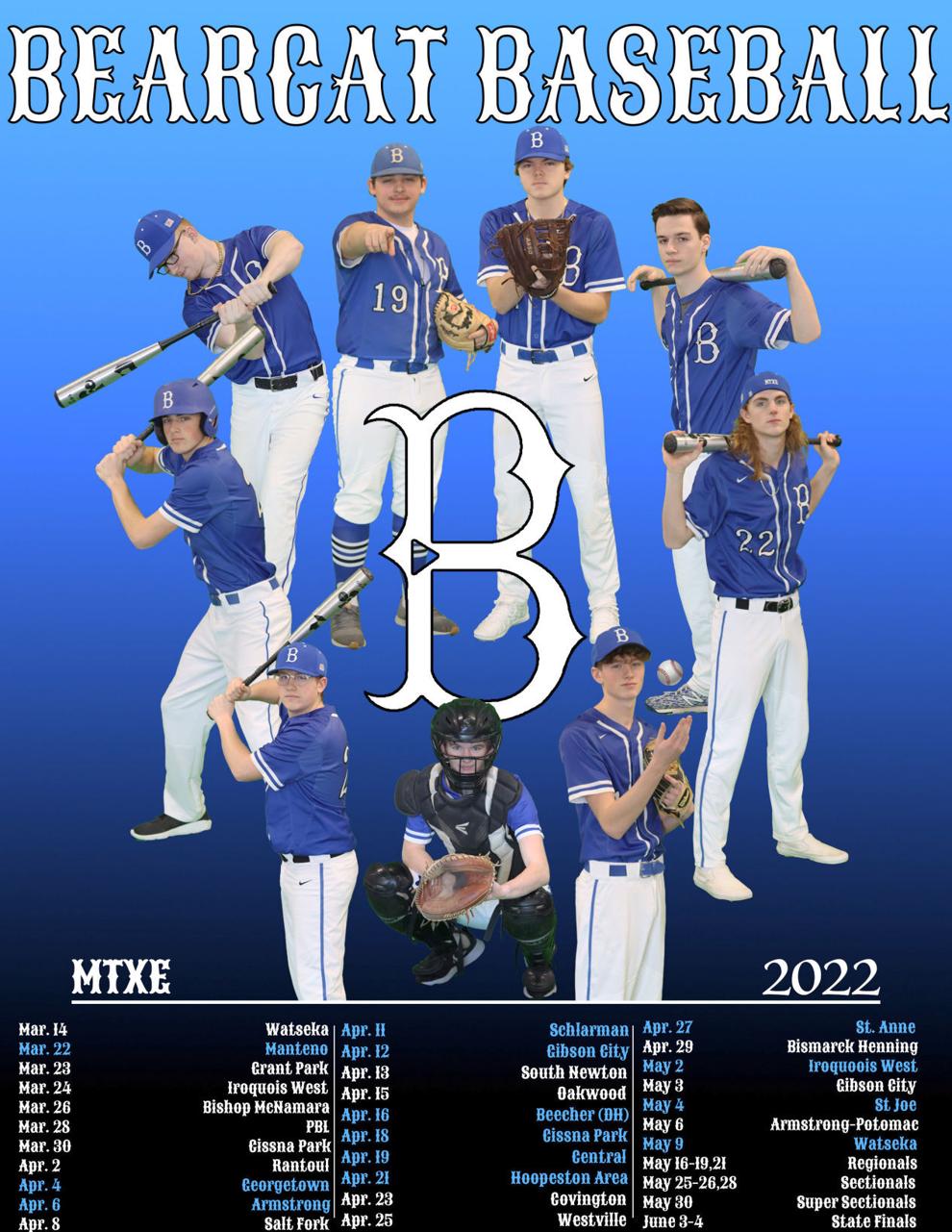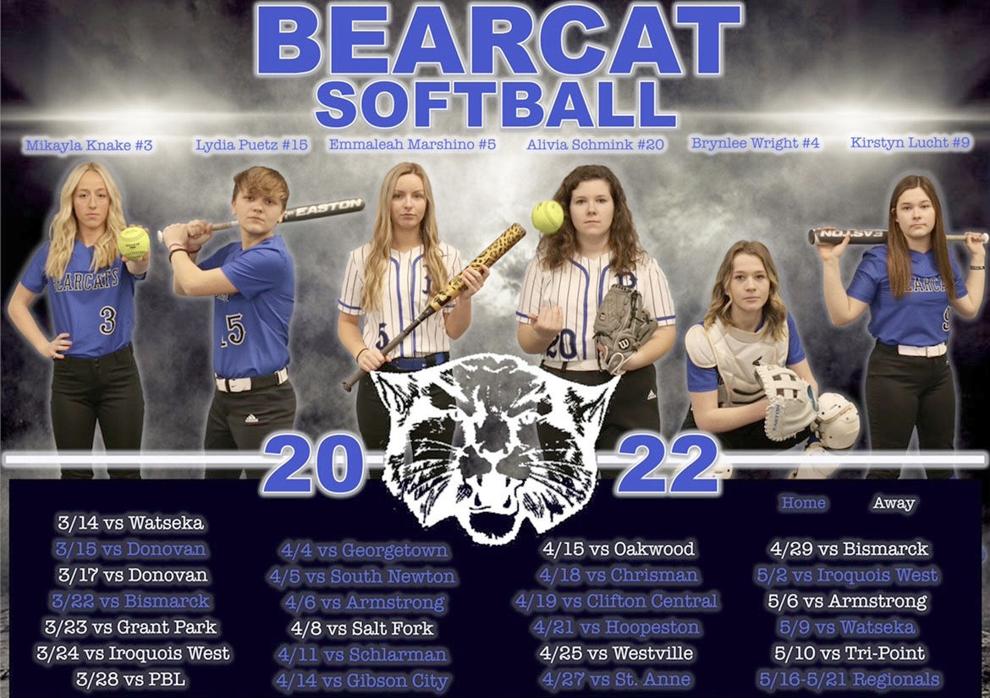 Milford
Entrepreneurship students made banners for the school's baseball and softball teams, which started play this week.
— Alivia Schmink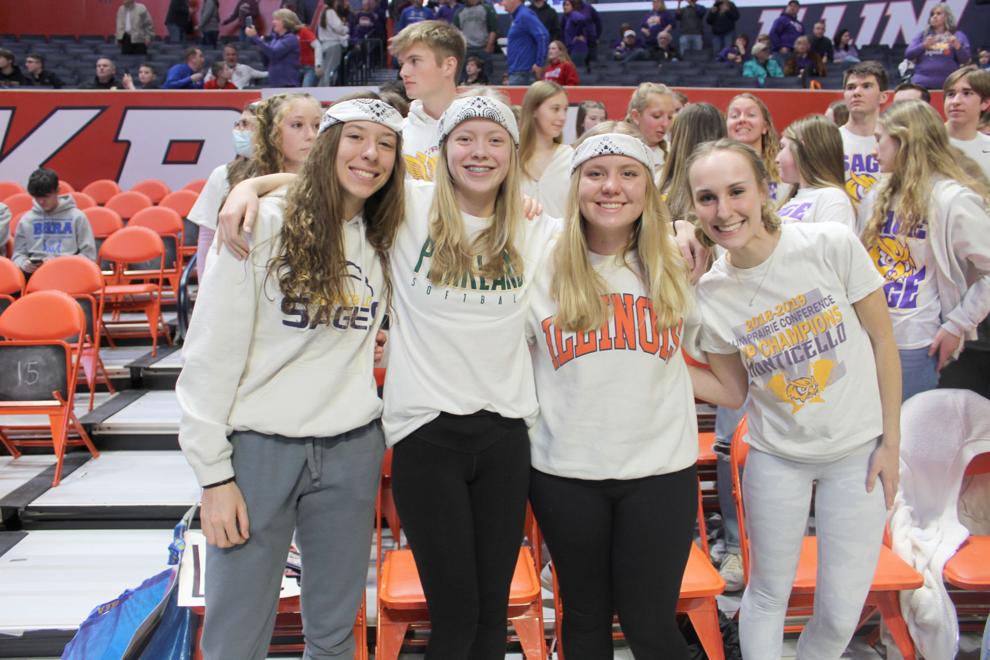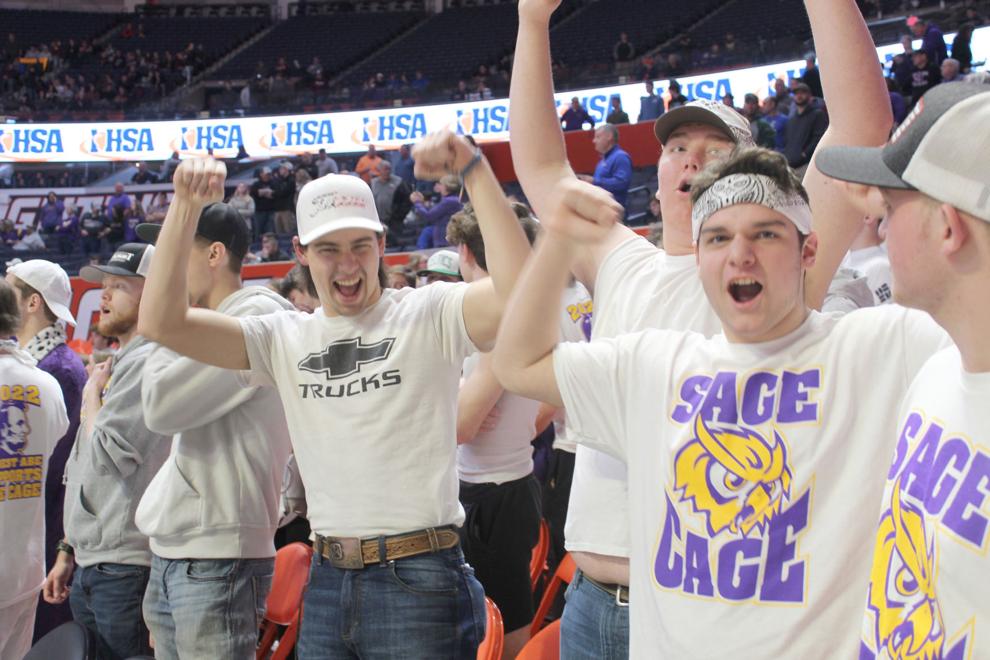 Monticello
Monticello switched to an e-learning day last Thursday so students could cheer on the Sages in the Class 2A boys' basketball state tournament semifinal at State Farm Center in Champaign. Pictured in the Sage Cage: seniors Lizzie Stiverson, Addie Wallace, Cara Johnson and Cora Sowinski. Also cheering on the Sages: Kaleb Reid, Jack Brown and Sam Burse.
— Clara Rudolph
Oakwood
Last Thursday, National Honor Society had its banquet to induct the 11 new members. On Friday, the gym was packed for the staff vs. student basketball game as part of a baseball fundraiser; on Saturday, sophomore Brody Taflinger placed third in the Class 2A three-point contest at the IHSA boys' basketball state finals at State Farm Center in Champaign.
— Madison Doan
Paxton Buckley Loda
Senior graduating officers gave retiring addresses at the annual FFA banquet for the school's chapter, including vice president Abigail Teske, reporter Gracie Wagner, president Maci Kingren and secretary Jordan Walder. Parents, alumni, supporters and current members were in attendance. Also, honorary degree recipients were recognized for their support throughout the year: Tom and Laura Proctor; Bobby and Olivia Kingren; Cari Deadley; Matthew Bachman; Bradford Wagner; Jim Walder and Beth Walder; Rick Vaughn; Tammy Milburn; Brian Myers; and Paxton Mayor Bill Ingold.
— Sydney Murphy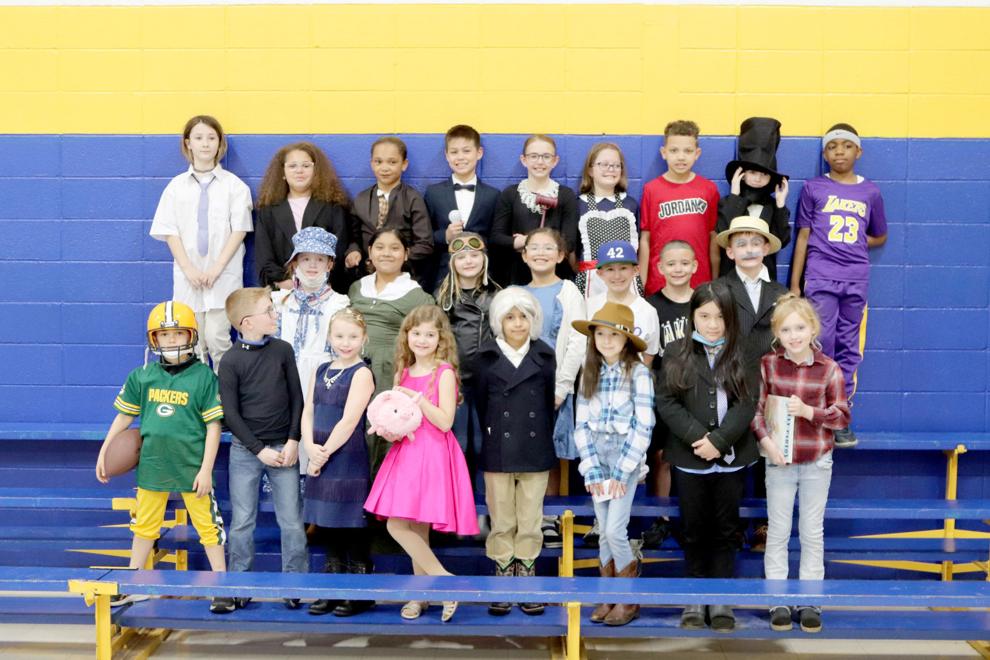 Schlarman
History lessons are playing out at many grade levels at the Danville school.
On Wednesday, third-graders researched and dressed up like famous Americans for their creative wax museum, coordinated by teacher Laurie Sermersheim. Students created poster boards at home for the in-school presentations, which drew a crowd of parents and fellow Schlarman students. Each student brought pennies to drop into a carton to make the "hero" come to life. The pennies were collected and donated to The Dwelling Place of Vermilion County.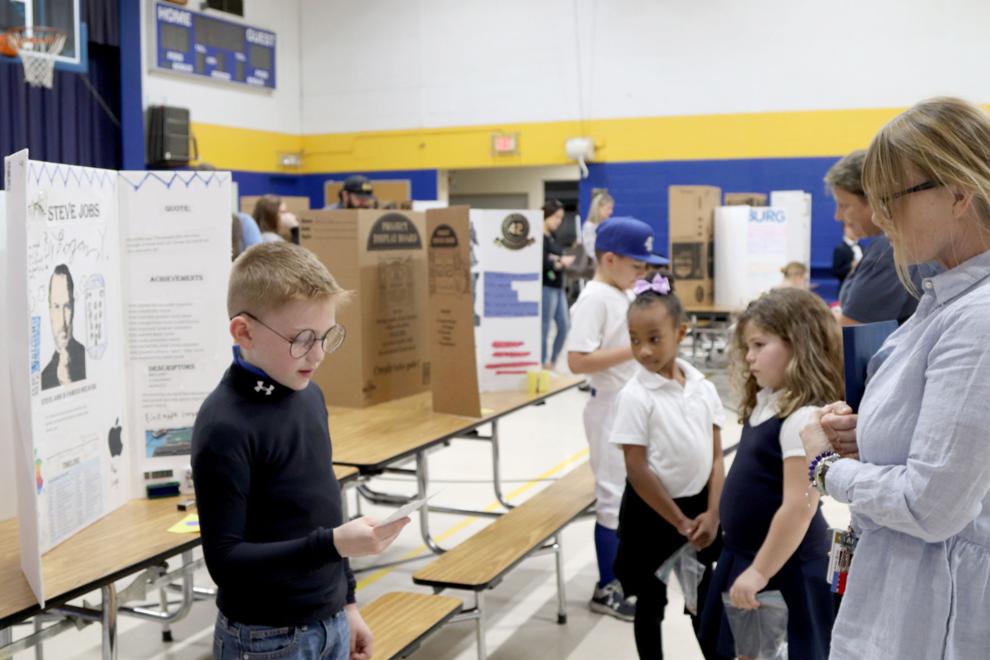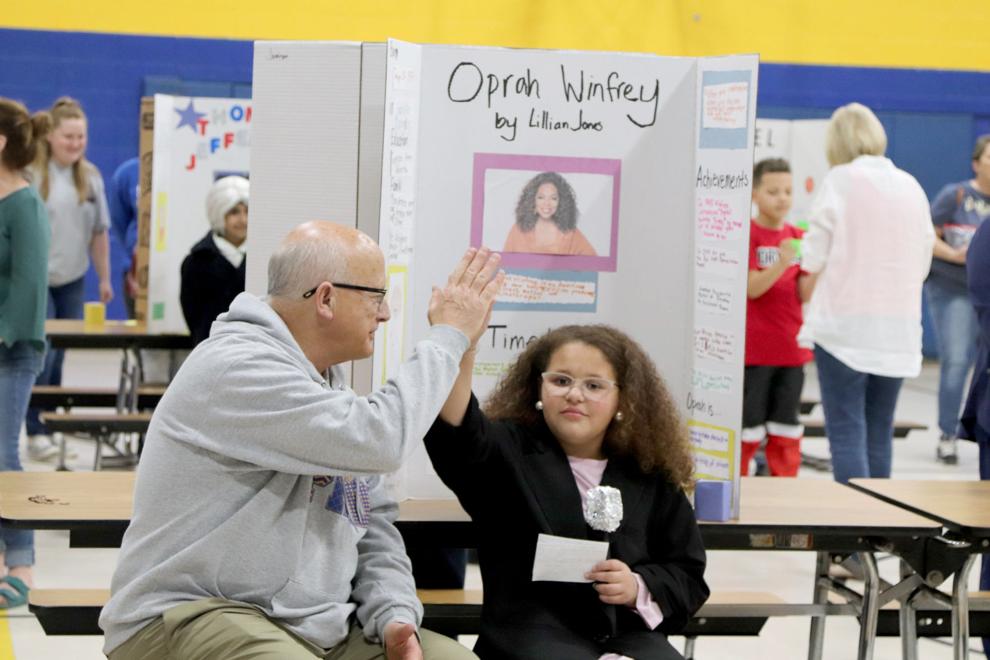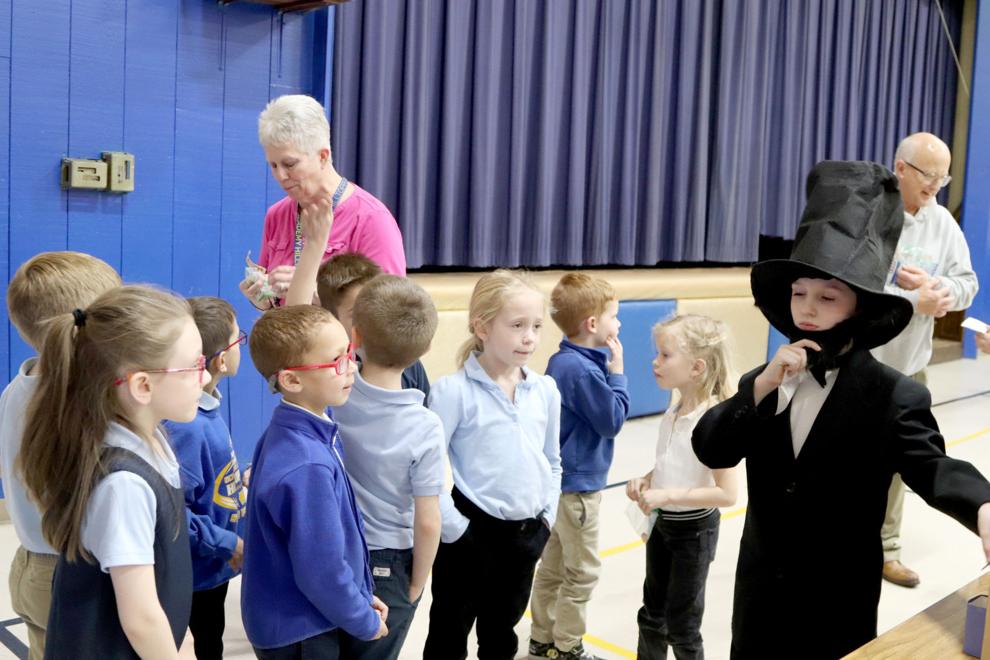 Pictured: Logan Yates as Steve Jobs; Lillian Jones, as Oprah Winfrey, gets a high-five from Mark Janesky; and kindergarten students listen to Ben Underwood as Abraham Lincoln.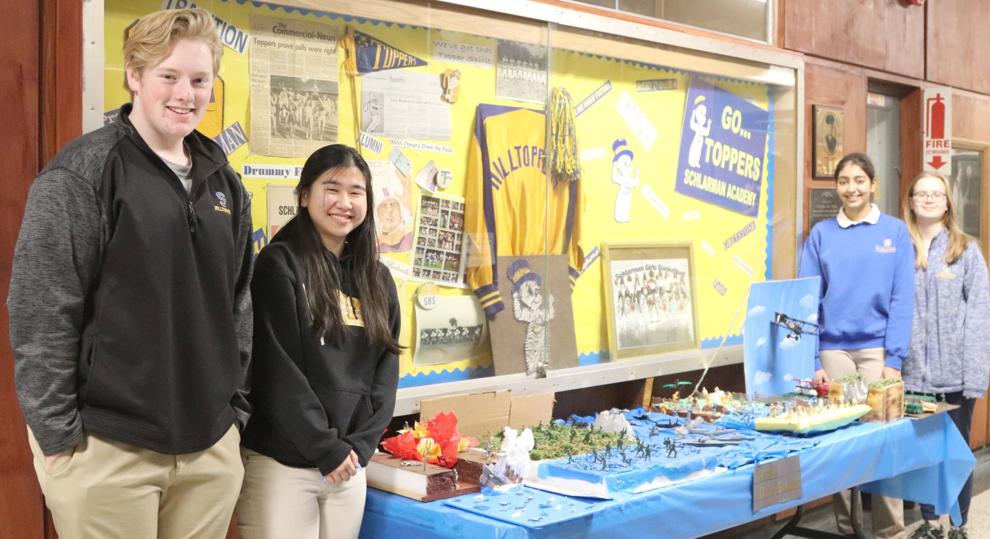 Meanwhile, Sharon Oakwood's 10th-grade American history class created unique dioramas depicting World War I battles. Pictured left to right: Dillon Hemker, Cheyenne Lutz, Maya Jenny and Anna Lehmann, showing their craftsmanship to the school.
— Katherine Smith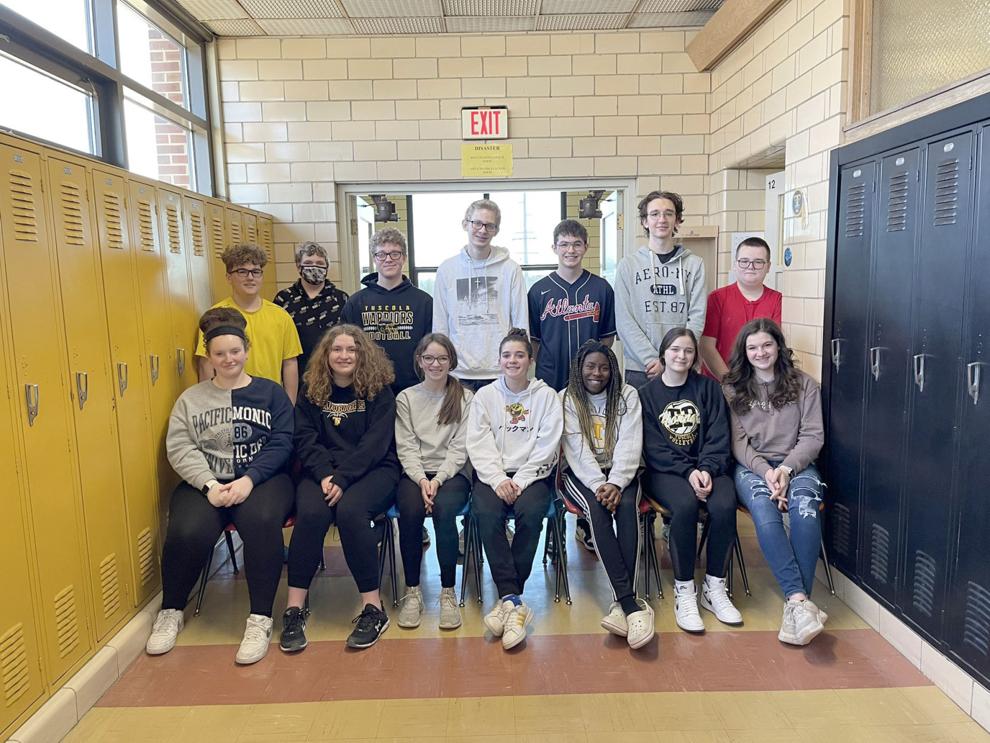 Tuscola
The Science Olympiad team competed Saturday. Pictured, left to right: (front) Elle Jones, Catie Gibson, Allison Pettry, Kenna Clodfelder, Lia Patterson, Ava Rauguth and Olivia Wallace; (back) Andrew Bennett, Brayden Taylor, Nathan Klie, Liam Hetland, Jackson Burlew, Thomas Spillman and Thomas Bennett.
— Amelia Bosch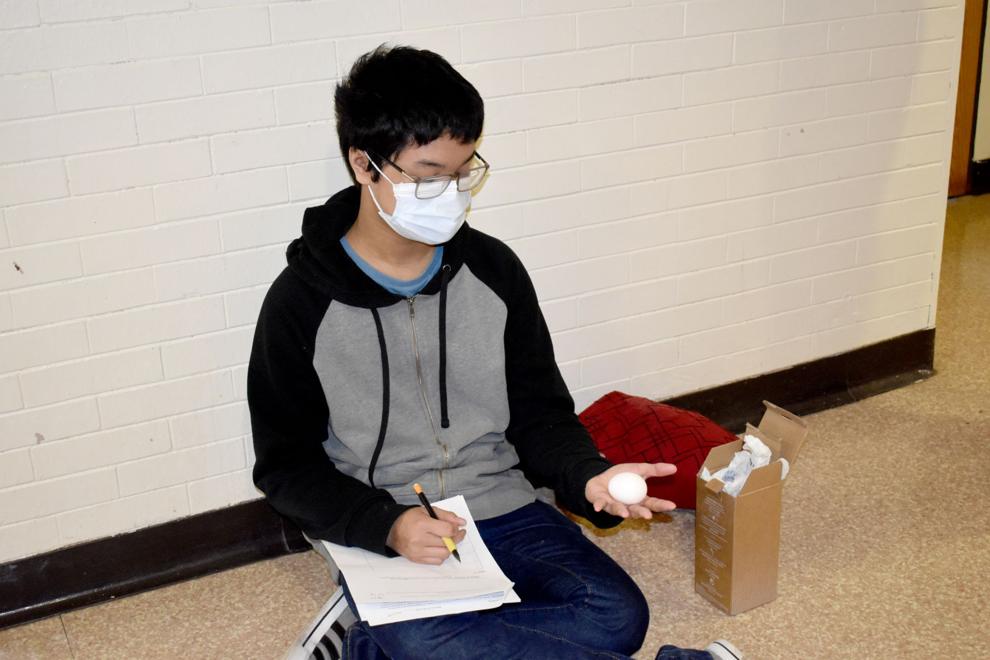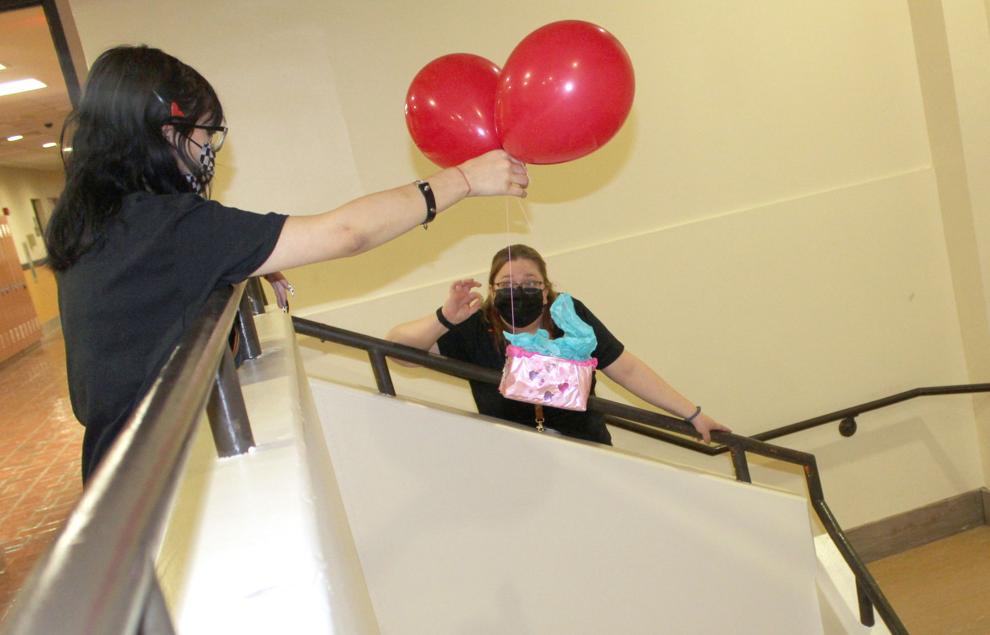 Urbana
Sophomore chemistry/physics classes completed their forces and motion unit by designing and testing an egg drop device. Kelsey Moreno and teacher Ashtyn Ehrlich discussed the best release strategy for a successful 9.6-meter drop. "I didn't expect it would survive," joked Isaiah Conde as he analyzed the data they collected.
— Park Mitchell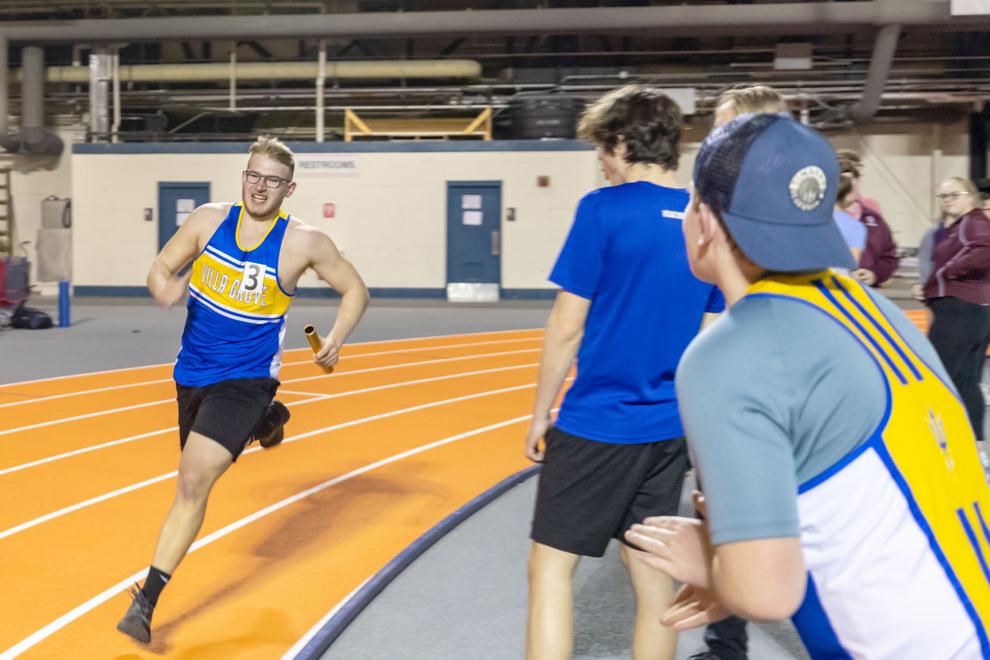 Villa Grove
Indoor track and field season wrapped up as many Blue Devils celebrated with personal bests. Connor Black (pictured as teammate Owen Meador cheers him on is a thrower but was able to run a 4x200m relay.
— Molly Little
.