CAMP ZAMA, Japan – An Army recruiting office recently reopened here to better support potential recruits on mainland Japan following a decade-long hiatus.
Sgt. 1st Class Jason Blowers, the lone recruiter at the office, said it was revived due to more interest at locations across Honshu.
He described the office as a one-stop shop that guides potential recruits through the entire enlistment process, since there is no nearby military entrance processing station, or MEPS.
"I'm the person who goes out to the [high] schools, so I'm the basic recruiter for it, but I'm also the person who will assist and write the contract," he said.
Last year, two recruiters based on Okinawa signed up nearly 40 recruits for all of Japan. Both recruiters previously traveled to mainland Japan once a month to meet with prospective recruits.
With a dedicated recruiter here, Blower hopes to travel more often to other military bases on Honshu, from Misawa Air Base in the north to Sasebo Naval Base in the south.
"They're not always able to get out to the outlying areas," Blowers said of the other recruiters. "They wanted somebody who could be up here and facilitate reaching out to individuals and help guide them through the process."
With no access to a MEPS site, recruiters have worked with a doctor at the BG Sams US Army Health Clinic here to conduct medical assessments for potential recruits.
The Armed Services Vocational Aptitude Battery, or ASVAB, can also be taken at the Camp Zama Education Center. Blowers, who can pull from his 10 years of experience as a recruiter, would then complete the paperwork for the contract.
"I'll be the one that they initially talk to, the one that fills their records, does their enlistment process, schedules with the doc, and is ultimately the last person they see when they leave the country for basic training," Blowers said .
New recruit Valerie Moloy visited the recruiting office Tuesday to speak with Blowers after she decided to join the Army as a 68T, or animal care specialist.
She said the process, which was previously done with another recruiter, went "really smooth" and faster than she thought it would take.
Moloy, 18, who graduated from Zama Middle High School last year, plans to head to basic training at the end of May and looks forward to starting a new chapter in her life.
"I have a passion for animals," said Moloy, who has two dogs, four birds and a rabbit at home. "I love animals and I think I will do this job really well."
Moloy, whose father is a Soldier assigned to US Army Japan, said she also enlisted in the Army to be able to travel. As a military brat, she has already been to Japan twice, Texas, Washington state and Germany, but would like to be stationed overseas on her own.
"When you're moving place to place, you're able to meet new people, you're able to explore new things and just overall adapt to a new environment," she said.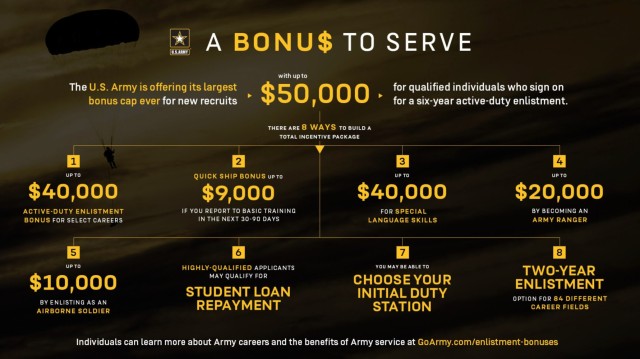 The Army also offers free college education and health care, and earlier this year it announced bonuses up to $50,000 for qualified individuals who sign on for a six-year, active-duty assignment.
Bonuses may depend on a combination of incentives given for a specific career field, individual qualifications, length of enlistment, and ship date for training, according to US Army Recruiting Command.
The Army has 150 different careers and some of those that provide bonuses include infantry, special forces, radar repairer, signal support systems specialist, and motor transport operator.
For Blowers, he initially joined the Army 17 years ago to be part of something larger than himself.
He said college was not for him after he graduated high school and he decided to work at an RV factory in northern Indiana.
"There, I felt a deeper calling that I should be doing something more with myself," he said. "One day I saw a bumper sticker for the Army, and there was my calling."
As a recruiter, Blowers said he doesn't want to push an individual in a certain direction that necessarily benefits the Army.
"We want [recruits] to find their purpose," he said, "and help find what works best for them."
He said anyone interested in the Army can speak with a recruiter as well as others who have served to see what opportunities they had in the Army.
"Everybody has different questions," he said. "I would encourage those who have thought about enlisting in the Army to reach out with any questions they have."
(Editor's note: Blowers can be reached by email at jason.e.blowers.mil@army.mil. His temporary office is located in Building 102, Room M134. A permanent office is expected to open near the Camp Zama laundromat this summer.)
Related links:
US Army Garrison Japan news
USAG Japan official website