Blackboard Learn is a leading, mobile-ready learning management system (LMS) designed for higher education. Recently, the company has been evolving its offerings to fit the needs of government and business.
Blackboard's most recent LMS version is Learn Ultra, which has coexisted with Blackboard Learn (sometimes called "Original" in documentation) for five years. Ultra is a streamlined version that stripped out some of Learn's functionality. Many learning institutions adopted the Ultra experience for course views and kept Learn Original for the rest.
That some users are still running both experiences simultaneously, half for functionality and half for design, is not promising. Blackboard later gave the Original course view a makeover for clients who wanted the Original experience with the Ultra look.
Welcome to Blackboard. It's going to give you some head-scratching moments, especially since both platforms are still very much in flux.
The Ultra version of Learn is best suited for business. Let's take a look at what it has to offer.
Who is Blackboard Learn for?
One thing Blackboard understands, maybe better than anyone, is how to provide learning experiences at scale. The company has served more than 100 million users in 90 countries, often in highly complex environments.
Blackboard Learn is well suited for businesses with complex training needs. It does not support e-commerce, so it may not be the best choice for companies that want to sell courses online.
Learn is not the easiest platform to use, so if you're looking for something everyone can jump in and use straight out of the box, you may want to look at one of the cloud-native LMSes designed for business such as WorkRamp or Lessonly .
Blackboard provides pricing only by quote, so you will have to talk to a sales rep to see if it's a good fit for your budget.
Here are highlights of some of Blackboard Learn's key features for business.
Blackboard Learn's features
The Blackboard platform has detailed features packed into its interface. There are fewer features in the Ultra experience than in the Original version. I've reviewed the Ultra experience because it is the streamlined version marketed for business training.
Admin controls
From the main dashboard, admins can manage courses, groups (called organizations), calendars, messages, grades, tools, and institution pages. Institutions are basically the home page of your account. Ultra allows you to create multiple institutions and brand them independently, a helpful feature to share Blackboard online training with different organizations.
Stream is a feed of user activity and messages. It's laid out nicely.
Learn's admin features run as deep as you would expect for a system with this much history. Within courses alone, the options are daunting. The labels aren't always the clearest, so you'll need to spend some time exploring to understand what you can do.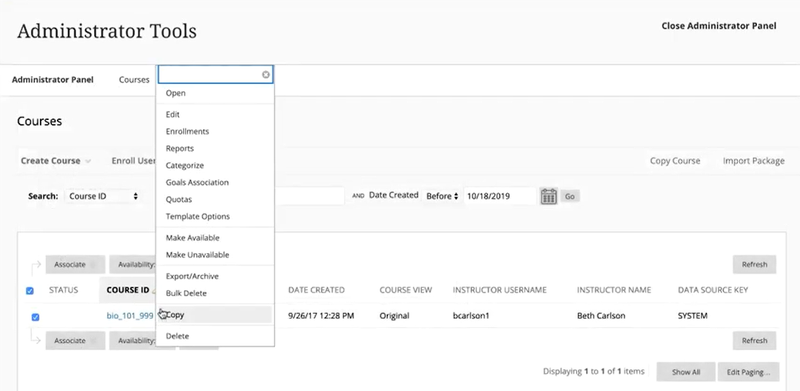 As an example of the depth and complexity of Learn's admin controls, the platform comes with ten built-in roles just for system users.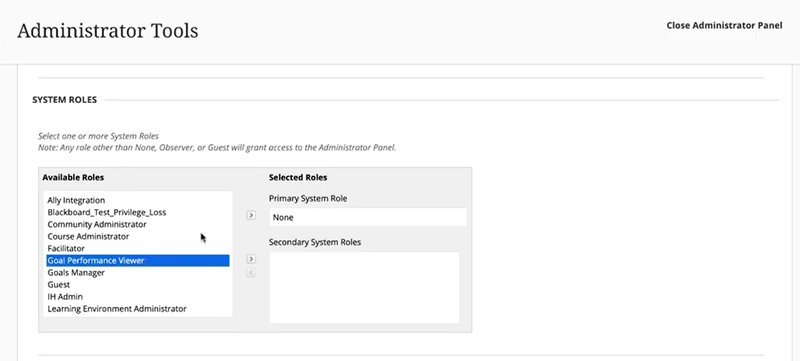 There are also options for institution roles, course roles, and custom roles. An unusual feature is the ability to assign primary and secondary roles to users. For example, someone might be a student for several courses and also be a teaching assistant or instructor for others. Blackboard lets you tailor their experiences and access precisely.
Admins can even control the system tools available to various users and integrate external tools through Learning Tool Interoperability (LTI) protocols. This level of control is valuable for organizations managing very complex populations of users and courses. It's an area where Blackboard shines.
Group notifications
Learn also comes with extensive automated notifications, giving users ready control over how and when they want to receive them. Under their profiles, users can forward messages by email, text, or push notifications. They can also select which messages appear in their streams.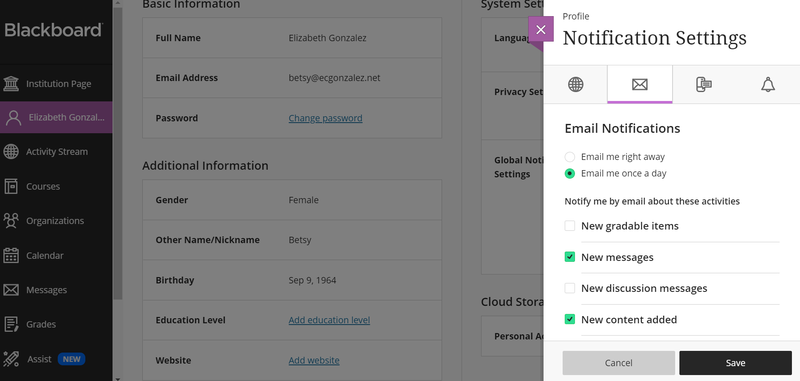 Blackboard lets you build in pretty much any automated notifications you need. Options include institution announcements, assignments, grade updates, new discussions, due date reminders, events, and more.
Course building
You can add content to courses in Learn by uploading or dragging-and-dropping files. You can also import them through Blackboard's Dropbox, Google Drive, Box, and other cloud accounts.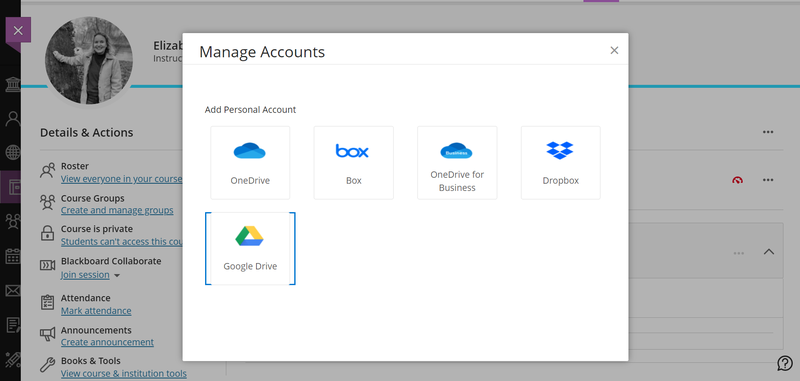 Instructors can incorporate documents, links, folders, tests, discussions, and journals into courses. You can also copy an existing course, pull items from other courses within the system, and import whole course packages.
It's easy to set prerequisites or time limits for viewing content. For example, you might require a student to complete an activity or achieve a certain score before moving on to the next item. Course items can be threaded into modules to be completed in a set order.
Course building isn't the strongest aspect of the Blackboard learning platform. Its strengths lie in Blackboard's course management and delivery.
Custom branding
Blackboard Learn lets you create custom branding for each institution in your account. Upload an image, assign brand colors, and you have an appealing custom interface.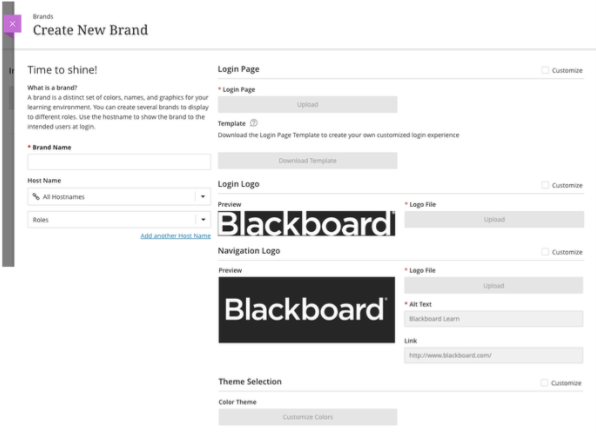 Blackboard gives you a lot of control over your user interfaces, a desirable feature for businesses.
Collaborate
Collaborate is Blackboard's native video conferencing tool, a feature you must buy separately. Collaborate is a virtual Blackboard classroom where users can meet, share files and apps, and even work on a virtual whiteboard. Collaborate can be used on mobile devices, making it easy for teams to connect wherever they are.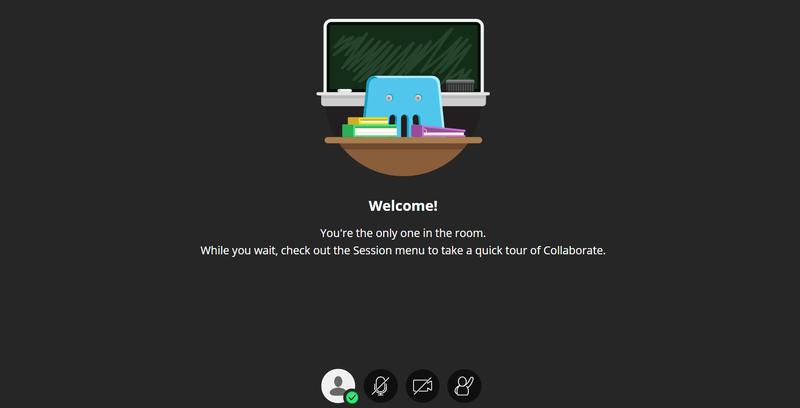 Blackboard disabled Collaborate's recording feature in March 2020 due to system overloads during the COVID-19 pandemic. The company provides bandwidth management instructions for accommodating the system's data load. Read the guidelines and consider your potential usage when evaluating Collaborate.
assessments
Blackboard supports test building with a good selection of question types, including formulas. Questions can be graded automatically with options for sharing correct answers and adding explanations. Questions can also be randomized.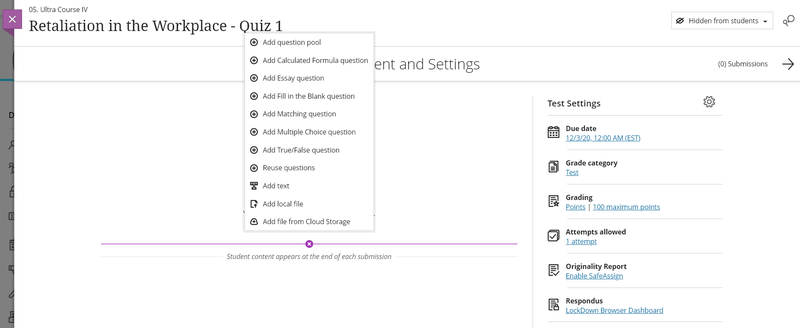 One nice feature is the ability to create an access code to secure your tests. Blackboard also comes with an option to lock the browser during the test to discourage cheating.
portfolio
Blackboard Learn includes a portfolio feature, which is a great tool for business training and performance management. Portfolios can be shared with fellow users to showcase a learner's accomplishments.
Admins can create templates for portfolios to ensure uniform presentation. Portfolios include a header and footer, pages with as many sections as you need, and a menu for navigation.
reports
Learn comes with an assortment of pre-built reports, many limited to certain user groups. Administrators can pull stats on attendance, usage, and system recordings. I'm not sure why you would want a complete breakdown of recordings, but it's there if you want it.
Instructors can view course activity, performance against objectives, user activity, and participation in journals and discussions, among other metrics. Reports can be run for specific users and user groups.
Blackboard provides advanced reporting for managed-hosted clients only. All in all, Learn's reporting isn't compelling.
Blackboard Learn's ease of use
How you feel about Blackboard's ease of use will depend on your appetite for detailed documentation and exploration. On the learner side, it's easy to get in and stay on top of your work. For instructors and admins, it's a beast, with an interface that's not very intuitive.
In addition, you have a whole lot of features tailored for academia — a plagiarism detector, for example — hanging around cluttering the interface. For that reason, it's hard to recommend Blackboard over the many systems purpose-built for employee onboarding and development.
Blackboard Learn's pricing
Blackboard's pricing is disclosed only by quote, so you will need to contact a representative to determine what it would cost your business. Pricing is subscription-based with some features charged separately.
Blackboard Learn's support
Support is an area where Blackboard shines, with phone, web, and chat support. Blackboard also provides video tutorials and online courses for instructors and administrators and a help center.
In addition, you may get onsite or remote training depending on the package you purchase. You can also tap into Blackboard's active online user communities for insights and advice.
Benefits of Blackboard Learn
Blackboard is an established LMS with deep course management and delivery capabilities. It can be branded and customized to create a Blackboard online learning environment to meet precise specifications.
You can host multiple organizations within your account with individual branded experiences. Some features, such as user and account management, are highly developed, while others such as reporting and course building are less competitive.
No substitute for experience
It's easy to cast stones at the giant, but Blackboard is a tried and tested learning system with advanced course delivery and management capabilities. Many newer learning systems cut their teeth on Blackboard.
While Blackboard still seems to be sorting out its approach to Learn and Learn Ultra, they are both good versions of a solid LMS with many redeeming features. It's definitely worth accessing the free trial site, CourseSites, and talking to a sales rep on your road to finding the best LMS for your business.