Kenneth Marfilius, David Meluni and Latha Ramalingam were honored with 2022 Falk College Faculty of the Year awards for excellence in service, teaching, and research, respectively. The honorees were nominated by their peers for outstanding teaching, scholarship and internal and professional service contributions and announced by the Falk Faculty Council in late April.
Matthew Mulvaney, an associate professor in the Department of Human Development and Family Science and chair of the Faculty Council, thanked all faculty members who submitted nominations and the nominees who provided documentary support for the council's consideration.
"This is both one of the most rewarding and one of the challenging parts of serving on the Faculty Council. We had a large number of nominations that came in, all of them were excellent, and all (faculty members) are making very important contributions to the college. It's always a hard decision and this year was no exception," said Mulvaney said.
Here's a look at the 2022 honorees with comments from their award presenters:
• Kenneth Marfiliusdirector of online and distance education and assistant teaching professor in the School of Social Work
Falk Faculty of the Year Award for Excellence in service
From presenter Yvonne Smith, associate professor in the School of Social Work:
"In 2021 Dr. Marfilius simultaneously served as director of the Undergraduate Social Work Program and the Online Master of Social Work Program, roles which, in their own right, require extraordinary vision, dedication, organization, and time. In light of his exemplary service, he was named director of online and distance education. This new position—a first for Falk College—puts him at the helm of five rapidly growing online programs that make Falk College's graduate curricula increasingly accessible to students across the nation and around the world.
"The significant challenge of designing, staffing, and managing these nascent programs is hard to overestimate. dr Marfilius, a veteran of the United States Air Force, has proven to be a steady, competent pilot who can, as we often say at Falk College, 'build the plane as we fly it.' In 2021, dr. Marfilius' exemplary service was recognized with the Syracuse University Center for Disability Resources 2021 Faculty Recognition Award and the Syracuse University One University Assessment Award for best use of results.
"But his achievements in college and departmental leadership roles are only some of the ways Dr. Marfilius has served our community. He routinely mentors students and serves as a liaison to the D'Aniello Institute for Veterans and Military Families at Syracuse University. Notably, Dr. Marfilius has emerged as a leading public voice on the mental health needs of returning veterans and their families. He has done all of this while teaching graduates and undergraduates and serving as PI (principal investigator) or co-PI on multiple research and training grants."
• David Meluniassistant teaching professor in the Department of Sport Management
Evan Weissman Memorial Faculty of the Year Award for Teaching excellence
From presenter Jane Burrell, associate teaching professor in the Nutrition Science and Dietetics program: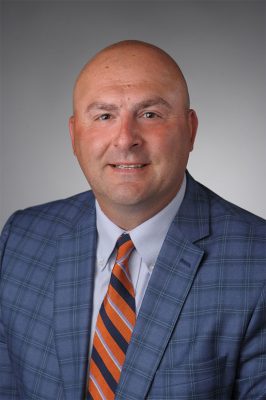 "Dave is a teacher who consistently receives excellent student evaluations. He is at the forefront of innovations in teaching, both in terms of classroom practices and course development, to meet emerging trends in the field. He also is exceptionally strong at developing collaborations with high-profile industry leaders to complement course content and provide students with real-world engagement opportunities.
"In 2021 Dave taught seven courses. As his nomination letter highlights, Dave is an exceptional teacher 'specializing in courses that are challenging to find qualified faculty to teach.' Dave teaches students to connect to real-world experiences in sales and marketing that prepare graduates to obtain highly competitive and lucrative employment opportunities. Dave is ahead of the curve in teaching and innovation. A prime example includes the rapid development of a new course, 'Name, Image, and Likeness,' which he created in response to the NCAA's 2021 ruling that enables student-athletes to monetize their name. This was the first and only such course in the country that provides guidance and tangible skills that will prepare student-athletes and their advocates to benefit from their name and talents.
"Dave also brings his expertise to bear outside of the classroom by overseeing the sales club, which was very successful in the National Collegiate Sales Competition. As a teaching professor, preparing highly qualified students and graduates is essential. Dave's experience in the profession, his infectious enthusiasm, and his willingness to help his students grow and interact with industry make him an exceptional teacher."
• Latha Ramalingamassistant professor in the Nutrition Science and Dietetics program
Falk Faculty of the Year Award for Excellence in research
From presenter Patrick Walsh, associate professor in the Department of Sport Management: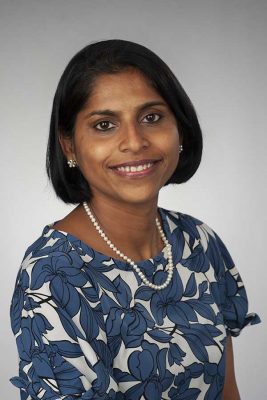 "Dr. Ramalingam, who is in her second year at Falk College, had an extremely productive 2021. She published eight peer-reviewed articles, several of which are in top-tiered journals in nutrition, and one in a highly respected journal in the field of cardiovascular science In addition, she co-authored five conference presentations and was invited by Syracuse University's Department of Biology to give a research talk titled 'Early life programming of obesity.' On top of the publications and presentations, Dr. Ramalingam submitted five internal research grants as PI (principal investigator) totaling $48,000, all of which were funded, and submitted an impressive eight external research grants totaling over $1 million.
"Her commitment to research is also evident through the mentoring of students. Her mentorship as advisor to two master's students in Nutrition Science and nine undergraduate students in her research lab has led to student publications, SOURCE grant funding, and a Pre-Doctoral Fellowship award from the American Society of Nutrition, the first time a nutrition science student at Syracuse University has received this honor.
"Dr. Ramalingam notes that her work 'focuses on the role of bioactives, specifically fish oil, in preventing maternal and paternal obesity. Approximately 30% of the women of reproductive age suffer from obesity. Dietary intervention during this critical fetal developmental window might provide opportunities to decrease the burden of metabolic disease later in life.' it is dr Ramalingam's research goal is to provide additional scientific evidence to reduce/prevent obesity using non-pharmacological approaches."