No matter what subject you choose in life, education is one of the most important components of success and practice makes perfect.
At East Shore Leadership Academy (ESLA) in Port Huron, they are putting this practice to work through a new partnership with The Athletic Factory to implement an after-school program that incorporates recreation, workshops, and other activities and will be available to students at the beginning of the upcoming school year.
A public charter school of choice for students in grades K-8, ESLA opened its doors to the public in 2014. Since then, it has been their goal to help children develop emotionally, academically, and ethically, creating leaders that are equipped and prepared for the next level in life.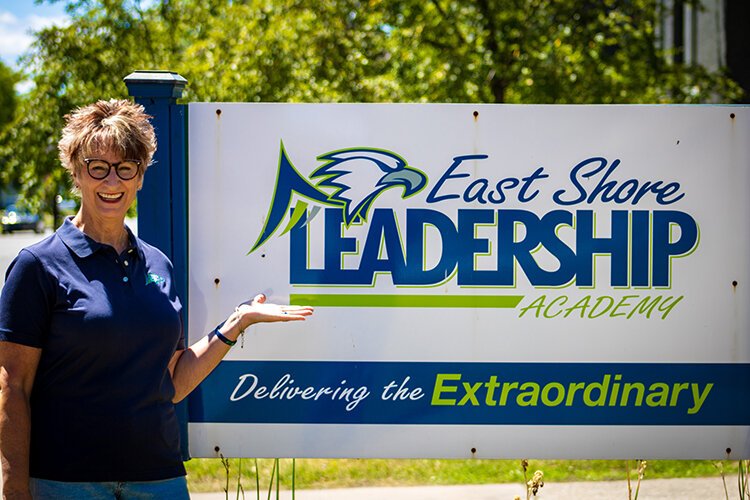 Nancy Gardner, Superintendent of East Shore Leadership Academy.
"My focus, as well as the focus of the principal, has been one of meeting the needs of the whole child. If our children don't feel safe, secure, needed, and valued then you're not going to get anywhere with just academics," says Nancy Gardner, Superintendent of ESLA.
One idea to achieve this goal was to offer an after-school program that incorporates real-world practices and activities in a fun and creative way.
"Since we are a small school we don't have things like a football or basketball team, so in our discussions with them [The Athletic Factory], we were presented with a robust plan for our students that we are so excited to be a part of. We couldn't have chosen a better organization to help us with this project," Gardner says.
Co-founded by Cliff Thomason and Marion Stewart, The Athletic Factory seeks to create opportunities for youth through programming focused on athletic participation, training, educational tutoring, and student-athlete college preparation.
"Our passion is helping children in the community find a sense of self-worth and discipline through sports, but we are also concerned with how they perform academically as well," says Thomason.
Being that both organizations have a passion for helping local youth it seems like a match made in heaven.
Marion Stewart (left) and Cliff Thomason are the co-founders of The Athletic Factory."A lot of things you can utilize in the workforce, I've learned through sports. My old coach Eddie Kindle used to tell us to be leaders, and that all of the situations we face on the football field would help us in life off of the field as well, so I am excited about this new venture and the opportunity to reach the youth through our partnership with East Shore," Stewart says.
The program will run throughout the school year on Wednesdays, Thursdays, and Fridays from 3:30 to 5:30 pm Activities will be broken into three different groups, K-2, 3rd-5th, and 6th-8th grades, with each group being able to participate in all activities provided.
In addition to recreational opportunities such as soccer, basketball, floor hockey, kickball, and bowling games, other activities will be available through the program as well as workshops and collaborations with community members and local organizations.
"We'll have family and board games such as scavenger hunts, chess, checkers, UNO, and Connect Four," Thomason says. "There will also be arts and crafts such as painting, coloring, picture journals, and holiday-related art."
Unity For Youth is one of the local organizations that is planned to come in and will teach students about the performing arts such as dance. Bobby Jones, who is an active member of SONS Outreach will come and teach the students Lego Robotics. The full roster is still in development, but they are also seeking to include those in the photography industry, music, and more.
"The whole purpose is to allow kids to be kids. East Shore has the academic piece covered, but they also want balance. They want them to be able to unwind and be kids as well," Thomason says.
.