Loni Davis is one of two bus drivers working at the Mt Adams School District. The mother of four has two kids enrolled in the district, which serves eight regular bus routes and has 825 students enrolled this year.
A fully staffed transportation team would include seven or eight drivers, according to Chad Crawford, the district's business manager. One additional driver is on leave. The district has had to switch to remote learning a few times since the start of 2022 due to its driver shortage.
Mt. Adams has three openings for bus drivers, according to its online jobs page. The job description calls for a commercial driver's license and a bus driver certificate. Nearly every other district in Yakima County also had openings for regular or substitute bus drivers, as of Monday morning.
Davis is highly active in the district. In addition to driving, she also helps in food service and with lunch supervision, supervises home games and chaperones school trips. During Halloween she dressed up as the Stay Puft Marshmallow Man from "Ghostbusters" and ran around campus just to bring a smile to students' faces.
Here are some questions and answers with Davis. Some of the answers have been shortened slightly:
What does a typical day on the job look like for you?
Since I have to do a double route, I usually come in, I get the bus ready, and I go out and I do Route Four first. I've been averaging about 6:50 (am) in the morning that I get here at the high school. I drop off all of them, including my elementary kids. I drop them all off and then I go out and I do Route Two, bring them all in. Then come back here at the bus garage.
I usually start pre-tripping for my next bus. Then I head back down to Harrah Elementary to pick up the preschoolers. I take the preschoolers home. I come back to the White Swan (High School) campus, and I go help out lunch supervision for an hour. I get back in the SpEd (special education) bus and then I take one more student home.
I come back and I have another little break between those routes. And then I do the first part of my afternoon route where I go and cover Route Two first. My Route Four kids have been really affected because their pick-up time is an hour earlier and then their drop-off time is like an hour and a half later than what it used to be.
Three days a week our mechanic will take half of my Route Four kids and run them home and then I take the other half. Wednesdays and Fridays, I do both routes by myself.
How did you get your start as a driver in the district?
I started out driving a truck. I loved it, but I was missing out on everything with my kids. I decided to just be a house mom for a couple of years. And then they started going back to school. That's when I finally decided to start looking for another job and go back. And I come out here, subbed for a month, and I just fell in love with it. I can come in having a really bad day, and by the end of my route I had forgotten what made my day bad.
What is your favorite part of your job?
It's definitely how the kids are, when they start playing around or when they're doing karaoke, or I take them on their trips. If you really, truly want to know how your kids are, ask their bus driver. Because as a driver, they don't think that I know their conversations that they're having. And it cracks me up!
How does being a school bus driver change the way you view this community?
It definitely opens up your eyes to a lot of the kids and what's happening in their families. When I first started, I got pre-warned that I was going to have nothing but issues with some of these kids. And once I got to know them and they got to know me, they actually opened up and would vent to me about their day. And it just boiled down to them just wanted somebody to listen to them. Nobody was taking that time to just listen to them.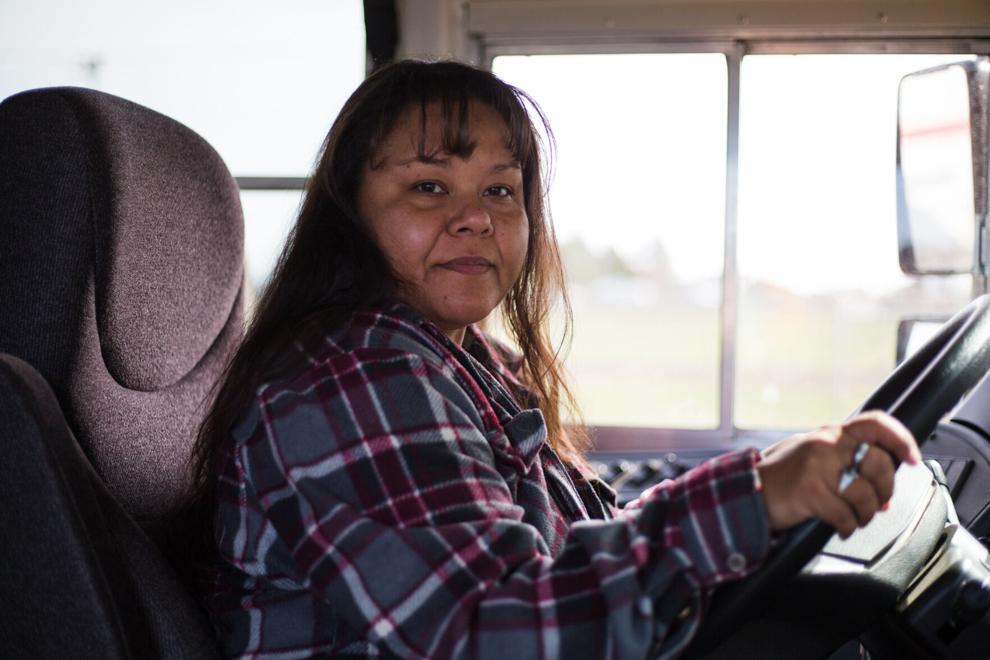 .