Placing student health and wellness needs forefront, free Wellness Leadership Institute workshops are built to cultivate empowerment through education of resources, sharpening skills and experiences, while yielding personalized toolkits that students can use at Syracuse University and beyond as they navigate their unique wellness journey.
Helping to build Wellness Leadership Institute outreach and lead workshops is Yvonne Kuo '24, Barnes Center at The Arch peer educator. "I think students are often surprised about how much they learn. Such topics as nutrition, investing basics or dealing with paychecks are something that we, as students, may not be taught in school, so why not learn about it for free?" Kuo says.
Why Is the Wellness Leadership Institute Important?

Woven throughout these empowering educational experiences is the Barnes Center Wellness Wheel. All workshop topics highlight the core of diversity, equity, inclusion and accessibility, while partnering with one of the eight dimensions of wellness.
Emphasizing that workshops are open to all undergraduate and graduate Syracuse University students, Kuo encourages students to step out of comfort zones and into ownership of their health and wellness journeys. "My favorite workshop was one that I attended with a campus nutritionist. It was an eye-opening experience to learn about different cultures and the different diets that they often consume," she says.
What Topics Are Explored in Wellness Leadership Institute Workshops?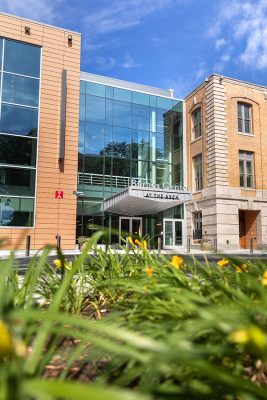 Nearly 80 workshop topics, hosted by health and wellness focused staff, faculty and peer educators, magnify the dimensions of wellness, while weaving together student experiences with available resources and services. Campus community members are encouraged to explore all workshop topics and those highlighted below.
Allyship 101
Fitness 411
Investing Basics
Leading From an Open Heart
Relationships and "Situationships"
Strategies for Career Planning
How Can Students Earn a Completion Certificate and Graduation Medallion?
Students that attend a workshop within each of the Dimensions of Wellness will earn a graduation medallion and certificate. Available through virtual, in-person and pre-recorded video opportunities, hundreds of free workshops are hosted throughout the year and accommodate a variety of schedules. Workshops are available now and will continue to grow throughout the summer and 2022-23 academic year.
Throughout their time at Syracuse University, students are invited to attend workshops. Traditionally, schedules host the opportunity to complete all Dimensions of Wellness within a semester. As of spring 2022, 14 students have achieved this accomplishment.
How Can I Help Students Connect With the Wellness Leadership Institute?
If a student may be struggling to balance commitments, navigating stress management and more, it may be helpful for all campus community members to suggest attending Wellness Leadership Institute workshops. Faculty and staff interested in weaving holistic health and wellness into curriculum and/or student groups are invited to partner with the Wellness Leadership Institute. Complete instructions are available on the Wellness Leadership Institute webpage.
For more information or to request accommodations, visit the Barnes Center at The Arch Wellness Leadership Institute webpage, email the Barnes Center or call 315.443.8000.
About the Supporting Student Wellness Series
Through a student-focused lens of integrated health and wellness, this series explores a variety of Barnes Center at The Arch resources and services. In the pursuit of enhancing the student experience, topics empower faculty, staff, students, families and supporters as catalysts of health and wellness within their daily interactions.